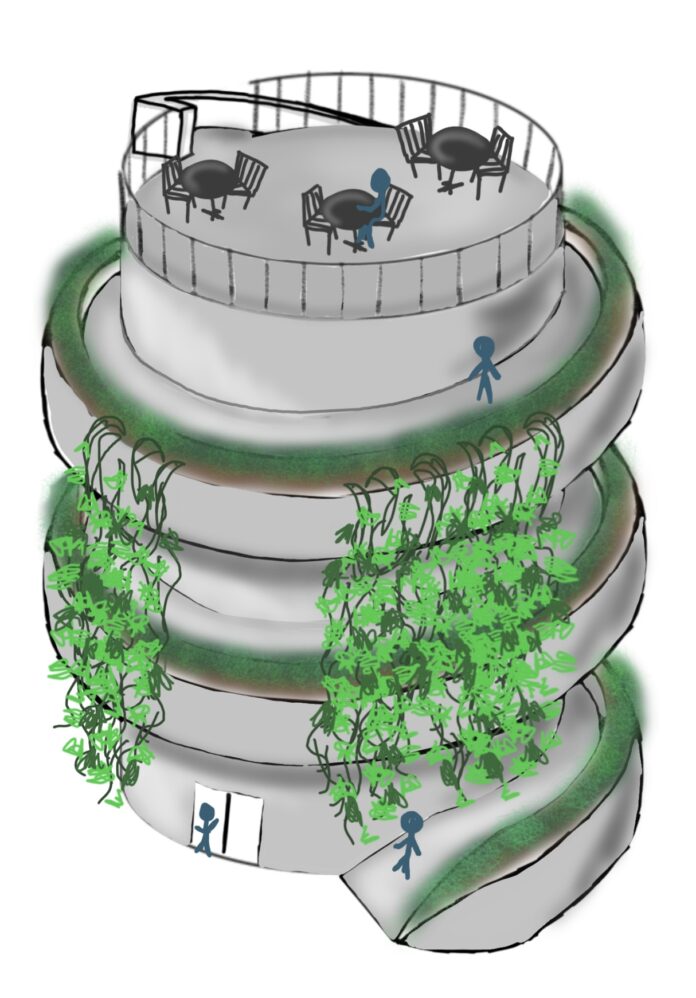 For this conjecture, the basic idea is that the interior would feature a cafe restaurant with plenty of seating space for eating, socializing, or studying.
The first floor would feature the café with some tables and chairs, and the above floors would contain further seating but would be more in union with plant life. There could also exist some floors solely for plant cultivation. The building exterior would feature a spiral path all the way up to the rooftop where more greenery and seating is available. The path features a raised bed all the way up to the top so people could enjoy their walk. There is also the opportunity for plant life to climb or hang from the raised beds, bridging the gap between the two levels.
I really wanted to create a destination that provided people with someplace to walk and enjoy nature. I felt using vertical space would be the best way to develop a realistic design within an urban setting.
Takeaways
From this conjecture, I learned that in my final design, I want to include seating. I think this is essential in welcoming people to stay to enjoy nature. There is certainly room to explore furniture and seating design to be more organic. I am unsure of how realistic this conjecture is due to the scale and since it leans so heavily into architecture, however I think I learned a lot about how I want to create a destination for nature and how nature can melt right in with everyday architecture.