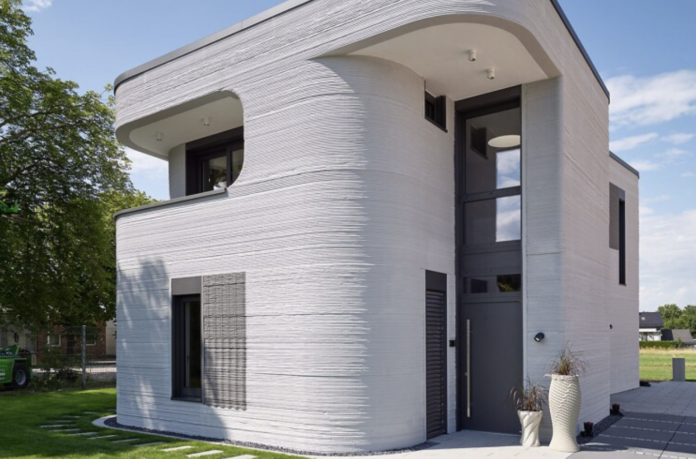 The single-family house in Beckum, North Rhine-Westphalia, was printed by Peri using a Cobod BOD2 printer. It was officially opened in by Ina Scharrenbach, North Rhine-Westphalia's minister for home, municipal affairs, construction, and equality. The state of North Rhine-Westphalia subsidized the project as part of its 'Innovative Building' funding program.
Peri Group board member innovation & marketing Thomas Imbacher said: "Together with our Danish technology partner Cobod, the Peri team has shown that 3D concrete printing technology is ready for the market. The project in Beckum is a milestone that has set many things in motion in the industry. Peri has since printed the largest apartment building in Europe in Wallenhausen and the first residential building in Tempe (Arizona) in the USA. Much of what we learned in Beckum has been incorporated into these projects. The house in Beckum was the first of its kind and for Peri and all involved, this project will always remain something very special."
The building was designed by Mense-Korte Ingenieure & Architekten. "With the printed building in Beckum, we have very successfully demonstrated what is possible when people come together who believe unwaveringly in something and are prepared to do pioneering work for it, with all its ups and downs," said Waldemar Korte. "Building and planning as we have known it for centuries will change fundamentally in many areas and we are grateful to have made a decisive contribution to this with our printed house."
Analysis
3D printing has become a very popular thing in the past 10 or so years. I remember when my high school bought one, everyone wanted to learn how to use it. With today's technology, we are able to do so many things with 3D printing like making a house out of concrete. I have access to some of this technology and could make something really cool for this space. Some people use them in their everyday life and may not know it. I can implement this kind of technology in my project in many ways and I think that it is smart to explore in this area.
https://www.theconstructionindex.co.uk/news/view/germanys-first-3d-printed-house-opens