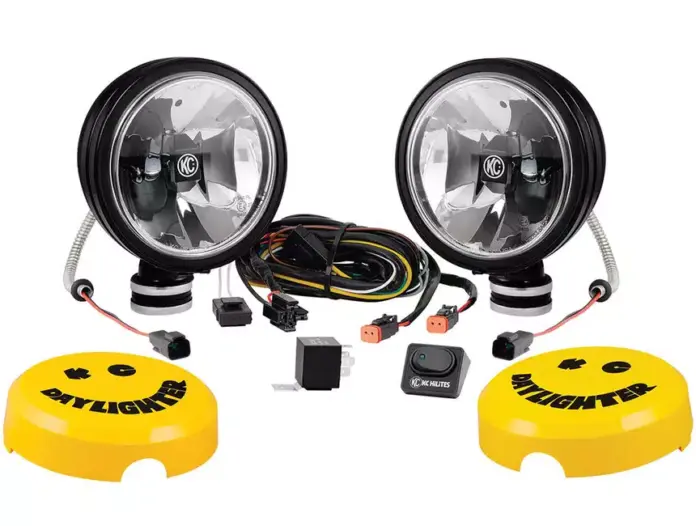 Published: September 6th, 2023
Writers: Mike Hagerty and George Kennedy
Link: https://www.forbes.com/home-improvement/garage/car-accessories/best-off-road-lights/
As the sun falls below the mountain or treetops, powerful lighting systems can help you see all of the trail and pick the perfect line. But not all off-road lighting systems are created equal. We've picked five of the best systems on the market for varying budgets. Whether you are a pro or just a soft-roader, there is a system here that should fit your needs and budget.
Methodology
As with all automotive accessories, a realistic assessment of your vehicle and where you'll take it is a big part of choosing the right off-road lights. Weight, materials, wattage, color temperature (warmer is more yellow, while cooler is more bluish) are all considerations.
We evaluate all off-road lights based on the following weighted metrics:
Brightness (30%)
Beam pattern/quality (30%)
Quality construction (20%)
Color temperature (10%)
Mounting hardware (5%)
Price (5%)
KC HiLiTES Gravity LED Pro6 Light Bar
Available as a 32-inch, 39-inch and a massive 50-inch setup, like the one shown here. While the circular shape of these lights might harken back to KC's early days in the late 1960's, these new versions are thoroughly modern and are capable of dishing out an impressive 19,616 lumens. That figure comes from all eight lights in the 50-inch setup combined, and they can also throw light out in three different beam patterns. Just know that you'll have to build your rig to meet the look of this light bar. The lights are also removable and submersible. Users really have only two complaints—the high initial cost and the fact that high-mounted off-road lights reflect off rain, snow and dust. That's true of any high-mounted off-road light, and why lower-mounted lights can be better for some drivers in some conditions.
Rigid Industries SR-Series Pro 30-inch 930314
A modern trend in off-road trucks and SUVs is the slim light bar. The slim bar gets to be a less visually intrusive type of product and despite being more low-profile, they do not lack in illumination power. This 30-inch bar is six inches tall and six inches deep, making it narrow enough to offer many different fitment options. Weighing only 10 pounds, it could be placed on a roof or on a bumper.
Black Oak Dual Light Bar Pro Series 2.0
The Black Oak light bar is well-made, rugged, and waterproof. Available in 10-inch, 20-inch, and 30-inch, you can find a size that fits your truck, SUV, UTV or ATV. The largest setup puts out a claimed 22,000 lumens and does a great job filling up the road with light at night. The installation for this light bar is quick and easy, and it weighs just over 8 pounds.
KC HiLiTES 653 Gravity G6
The KC Highlighter is an iconic look. Sure, there are plenty of modern 4×4 setups, but if you have an older truck or SUV, you'll probably want a more period-correct look. To that end, there's nothing more vintage-off-road than the smiling logo on these light covers. Despite their nostalgic styling, they are fully modern, and each 100-watt lamp tossed up to 2,452 lumens. It's a bold look with great illumination power and terrifically tough construction.
Nilight Flood Combo LED Light Set
Sometimes, it's not about having the best lights on the market, it's about having a setup that merely gets the job done. If you want your entire lighting setup in one kit, this setup includes a 20-inch light bar plus two four-inch spot LED pods. We wouldn't recommend this for high-speed off-roading where visibility informs split-second decisions, but if you do more trail crawling and are only occasionally out in the dark, this setup will be perfectly fine—especially for the price.
---
Commentary
I'm interested in this article because it describes benefits of car accessories. This is a very niche type of car accessory but in my project that will be helpful to know about. A really useful part of this article is the methodology section explaining how the authors evaluate the light accessories. This can help me during the product development phase when deciding on features, qualities, and attributes of my product. Also, it is interesting to see/read about the different varieties all of these lights come in. Although they are mostly made to accomplish the same cool, there are different styling, mounting, brightness, and use cases for each one. I can use this as a way to diverge any conjectures and prototypes I have throughout development. When considering a car accessory, something to be added on to the car, there are certain standards that have to be met to accommodate for all types of cars. Most of these lights can be attached to off roading vehicles like SUVs, trucks, or in some cases even ATVs. I'll keep adjustability in mind when putting together a possible car accessory.