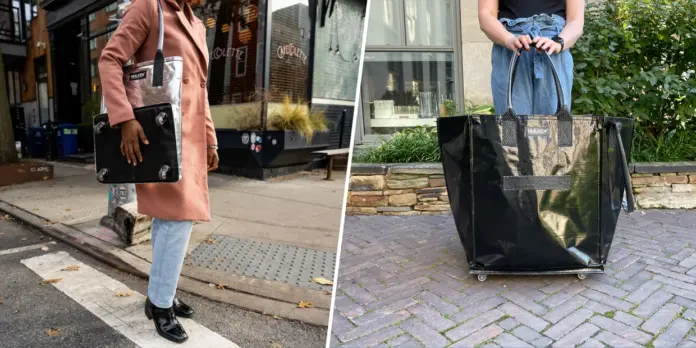 Chores and errands are no match for this glorious tote on wheels.
Published: September 22nd, 2023
Writers: Zoe Malin
Link: https://www.nbcnews.com/select/shopping/hulken-bag-review-rcna111385 
After months of shoulder strains and breaking handles, my large reusable bags were no longer cutting it. Even the most spacious ones weren't roomy or strong enough to hold what I needed to stuff inside. I also tried rolly carts and wagons, but they took up too much space in my apartment.
That led me to the Hulken bag, a giant tote on wheels that also folds flat. I like to think of the Hulken as my personal U-Haul truck — I fill it to the brim and roll to my destination. My Hulken has conquered city streets, subway platforms, trips to the park, elevators and car rides. And every time I use it, someone stops me to ask where they can buy one.
What is the Hulken bag?
The Hulken is a rolling tote bag designed to make transporting items easier. The Hulken bag is available in medium and large sizes, measuring 16x12x20 inches and 20x16x24 inches, respectively. Both sizes have a weight limit of 66 pounds, according to the brand, and come with three handles. There's one handle on either side of the bag, allowing you to carry it over your shoulder like a tote. You can also use these handles to roll the Hulken alongside you or pull it by its front handle.
Depending on which size Hulken you buy, there are four to five swivel wheels on its base and a cover attached to the top that you can either zip closed or tuck away inside. The Hulken folds down when it's not in use, making it almost entirely flat other than the wheels. This lets me slide the Hulken bag under my bed or couch to store it, and it takes up almost no space in a closet.
How I use the Hulken bag
Since buying the Hulken, I've never gone to the grocery store or farmers market without it. The Hulken also makes laundry a bit more enjoyable. No more Santa-esque sacks of clothes flung over my shoulder. I throw my laundry detergent inside the bag, too, so all I need to carry is my phone and keys. I also load the Hulken with bags of donations to bring them to Goodwill or my local food pantry.
Swanson lives in a walk-up and once used the bag to get all the pieces of a shoe cabinet up into her third-floor apartment. The cabinet arrived in a large, bulky box she couldn't carry by herself, so she unboxed all the pieces downstairs, loaded them into her Hulken and carried it up. During a blizzard, Swanson also used her Hulken to transport supplies for a bridal shower.
Why I love the Hulken
The medium Hulken can hold two to three full grocery bags, while the large Hulken can hold four to five full grocery bags. The large Hulken is certainly enormous, but I prefer the extra space. After all, I bought the Hulken to never do an errand in two trips again, or carry heavy bags that leave me sore the next day. I do, however, have the medium Hulken on my wishlist so I can use it when my large one is filled with laundry I've yet to fold.
Beyond the size, the Hulken's shape also makes it particularly useful. The Hulken bag is rectangular, wide and has high walls. The deep, roomy structure makes it suitable for transporting large, heavy or bulky boxes that would otherwise be difficult to carry.
The four walls of the Hulken are made from polypropylene, a type of water-resistant plastic that I clean with a multi-surface spray. The material is rigid enough that the bag holds its shape and stands up by itself, yet flexible enough that it folds down when it's not in use. I can overstuff the Hulken, which I can't do with a cart that has steel or hard plastic walls. Its base is a stiff board made from recycled materials, providing a sturdy foundation for the bag and everything you pack inside it.
To say the least, this bag is durable. Other than a frayed stitch or a little scuff, my Hulken hasn't shown signs of wear and it works as well as when I took it out of the box. I also use my Hulken more than I store it away, and despite days left standing upright while filled with a week's worth of laundry, its walls don't start to collapse. 
The swivel wheels, located on the bottom of the bag, spin 360 degrees. Since the wheels can roll in any direction, you can make quick turns, direction changes, forward and backward. The Hulken's wheels are small — they're 2 inches high, so they barely lift the bag above the ground.
To ensure you can bring it up and down stairs or lift it over high curbs, Hulken added handles to either side of the bag that convert it into a tote, in addition to a pulley handle on the front. The side handles are 14 inches long, and the front handle is 16 inches long. The long handles make them comfortable for people of varying heights, but if you don't hold them taut enough, you'll have less control over steering the bag, Schneider says. Being able to alternate between rolling and carrying the Hulken makes it much more versatile than other wagons and carts I've tried.
Instead of having an open top like the original model, my Hulken bag has a cover that you can zip closed or fold inside when it's not in use. The cover prevents my items from falling out or getting wet. I opt to not use the Hulken's cover if I want to overstuff the bag or if I'm transporting a tall item that peeks out the top a little bit. The cover folds flat against the inside of the bag and stays put, so it never gets in the way when I'm filling my Hulken up. 
---
Commentary
This sounds like a very innovative reusable bag. While living in Montreal, where they don't use plastic bags only reusable bags for shopping, I saw a lot of people using the small trolly or wagons. I just tote bags that I had to carry from my house to the grocery store. Especially in the weather conditions in Montreal, this Hulken bag would have been a great purchase for me at the time. I'd say the target audience of this product are people who live in cities, on university campus', or people who have to walk long distances while carrying items. I can also see this being used for older customers who just grocery shop with a car. It can be a useful car accessory to have stored in the trunk for spontaneous store trips or to keep groceries stable. Reading about the qualities and dimensions of the Hulken bag, makes me think that it is a all use type of tote bag. Looking at pictures of it makes me question that a bit. I don't think the Hulken bag is as pleasing to look at as I would have thought. It seems a bit bulky to carry around when empty and on the shoulders like a tote. Maybe another version of this can come in the shape of a backpack to wheeling tote. I think the weight distribution of items when on someone's back is more comfortable then that of a tote bag on the shoulder. I'll have to look more into that though.