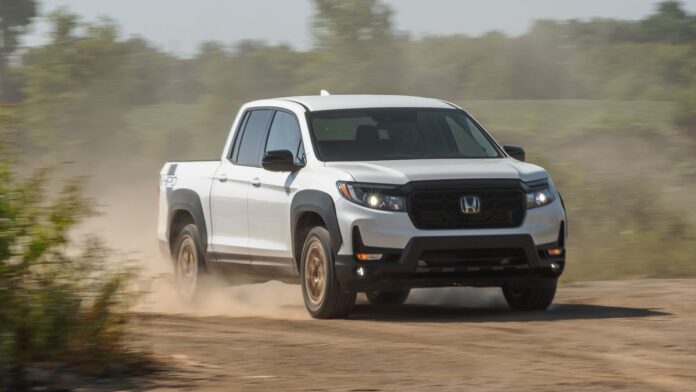 Published: July 11th, 2023
Writers: Austin Irwin and Eric Stafford
Link: https://www.caranddriver.com/honda/ridgeline
Overview
Honda's mid-size Ridgeline pickup is different. Unlike traditional body-on-frame pickup rivals like the Chevy Colorado or Toyota Tacoma, the Ridgeline is a unibody vehicle—meaning, it has no separate frame. It shares its underpinnings with the unibody three-row Honda Pilot SUV, which is obvious when you drive it. This nontraditional construction gives the Ridgeline the driving comfort of an SUV mixed with the towing and cargo bed of a smaller truck. While this diminishes its off-road capability compared to the most aggressive models from its competitors, the Ridgeline makes an excellent impression in the concrete jungle. Offered exclusively as a four-door crew cab with a five-foot bed, the Ridgeline is powered by a pleasant 280-horsepower V-6 with a nine-speed automatic transmission. All-wheel drive is standard. From behind the wheel, you'd never guess you're driving a pickup, which is exactly why it's a multi-time Editors' Choice winner.
Where This Vehicle Ranks
#1 in Best Mid-Size Pickup Trucks
What's New for 2023?
The 2023 Ridgeline receives no changes for the new model year.
Pricing and Which One to Buy
This segment of mid-size trucks has become oversaturated with traditional body-on-frame pickups that provide ample towing and capable off-roading. However, the Ridgeline caters to folks who want a more comfortable and fuel-efficient alternative. While the priciest models have the fanciest features, we think the RTL has the best mix of desirable equipment and value. Likewise, the Ridgeline RTL receives better standard features than the lesser Sport trim level. These include heated front seats, a leather-trimmed interior, and power-adjustable front seats.
Engine, Transmission, and Performance
The lone powertrain is a 280-hp 3.5-liter V-6 that makes 262 pound-feet of torque and hooks up to a nine-speed automatic transmission and standard all-wheel drive. The engine feels smooth, and throttle response is especially receptive when you call for hard acceleration. An untraditional pickup in many ways, the Ridgeline surprises from behind the wheel. On the road, it is well-mannered and feels extremely competent. Its coil-sprung independent rear suspension contributes to a carlike ride quality not available with the leaf-sprung, solid-axle setups used by the competition. Body lean in corners is minimal, and small bumps are barely noticeable. The electrically assisted steering feels appropriate. The Ridgeline's braking performance stands out as its lone dynamic blemish. Its braking distance from 70 mph to zero is on the long side, and we thought the brake pedal felt soft and had too much travel during normal use.
Towing and Payload Capacity
The Honda Ridgeline pickup is a show-er, but not much of a tow-er. All Ridgelines come standard with all-wheel drive and are rated at 5000 pounds, which is between 2000 and 2500 less than rivals such as the Chevy Colorado and Ford Ranger. The Ridgeline is capable of hauling almost 1600 pounds of payload, which is about on track with the Colorado but less than the Ranger's maximum.
Interior, Comfort, and Cargo
The Ridgeline's interior is tops in its class in terms of practicality and comfort. As with most other mid-size pickups, the Honda features hard plastics below the dash level. Otherwise, the materials are above average. Rear-seat passengers will enjoy the most space of all mid-size rivals. Fold-down armrests on both front seats are a welcome addition, especially since the center console sits low between them. The Honda pickup has only one bed length, 5.3 feet, which lines up with competitors' short beds and has the second-lowest volume at 34 cubic feet. The antidote to this disparity is its locking, weather-tight in-bed trunk, which is located below the bed's floor and accessed from above. It has a 7.3-cubic-foot capacity. There's one more advantage: with 50.0 inches between its bed's wheel wells, the Ridgeline is the only mid-size pickup that can fit a sheet of four-by-eight-foot building material flat on the bed floor. Clever features continue inside. The rear seat splits 60/40 and, when flipped up, provides room to fit a full-size bicycle. Unfortunately, loading large items may be difficult, as the rear doors don't open very wide.
Infotainment and Connectivity
Every Ridgeline comes standard with an 8.0-inch touchscreen infotainment system. It now features a physical volume knob and screen icons that Honda says are easier to use than its predecessor was. However, we haven't had a chance to test this claim or the updated Display Audio system for ourselves. The Ridgeline also comes standard with Apple CarPlay and Android Auto. Plus, certain models can be equipped with an in-bed audio system that can liven up any tailgate party. Using actuators that vibrate, it turns the cargo bed into a huge speaker.
---
Commentary
Since I have current interest in the Honda Ridgeline, this article is very useful for knowing the specs of the vehicle. It seems that the Ridgeline is made less for users of pickup trucks and more for customers seeking a comfortable vehicle with truck like capacities. I appreciate that this article compares the Ridgeline to competitors, saying that it has a smaller bed and can pull less weight then competitors. The most interesting feature of the Ridgeline is the 60/40 rear seats that can flip upwards. I think this can be very helpful for curbside pickup because of most truck user load their groceries in the second row. This seat flipping feature allows for more storage that is out of the way of the user loading and unloading. Although, since the Ridgeline is made on the same frame as the Honda Pilot, the rear doors do not open as wide. This is contradictory for easier loading into the second row with the 60/40 seat feature. I am curious on what type of customer Honda made this vehicle for. If not for hard core pickup truck drivers nor for standard Honda users, is it meant to just be another SUV variety in their fleet?