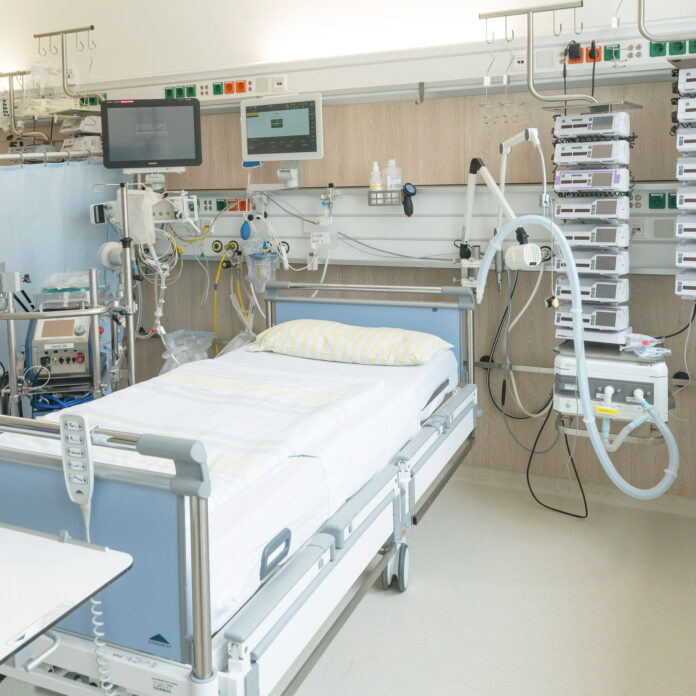 By: Karthikeyan Iyengar, Shashi Bahl, Raju Vaishya, and Abhishek Vaish
Published: U.S. National Library of Medicine
Date: May 5, 2020
2. Ventilator and its importance in COVID-19 pandemic
Ventilator is a medical equipment/machine which is employed to provide respiratory support to the patients whose lungs are significantly compromised due to infection (pneumonia) etc. leading to severe respiratory problems. The ventilator uses a positive pressure to supply oxygen into the lungs through the inner ways and fully regulate the breathing process of the patients. A humidifier is used in ventilator to add moisture and heat to the oxygen so as to match with the temperature of the body of the patient. The lungs of the patients who require mechanical ventilation due to COVID-19 are so much inflamed that the oxygen is unable to reach the alveoli when a patient breathes, and the mechanical ventilator acts to force the oxygen flow under pressure to these small air passages. Medical ventilation is basically of two types: a) invasive mechanical ventilation and b) non-invasive ventilation. The invasive mechanical ventilation uses an endotracheal tube which is inserted in to trachea for the flow of oxygen in to the lungs of the patient, whereas the non-invasive ventilation does not employ any internal tube. The non-invasive ventilation devices such as continuous positive airway pressure (CPAP) device [6] and oxygen hoods are also used in the management less severe COVID-19 patients, so as avoid the need of mechanical ventilators which are invasive in nature. However, mechanical ventilators are most necessarily used in the situations where patients suffer from acute respiratory distress syndrome (ARDS) such as in COVID-19. This helps in normalizing the levels of oxygen in the body. They are primarily used in home care, emergency care, intensive care settings and as one of the parts of general anaesthesia machines.
The challenge of shortage and the cost of ventilators
The present outbreak of COVID-19 pandemic has resulted in the dramatic increase in the number of patients who need respiratory care. Health care systems worldwide are facing the extreme shortfall of ventilators particularly mechanical ventilators and their components. The shortage of ventilators has already been experienced by most of the countries who are extremely hit by this pandemic [7]. One of the main reasons for the shortage of ventilators is the issues related to their global supply chain. Due to the worldwide spread of infection, the exports of the medical equipment's including ventilators have come to a halt. The situation has been become so alarming that as many as fifty four countries have stopped exporting the goods related to medical field including ventilators [8]. The production of medical machines such as ventilators demands more intensive capital and expertise.Go to:
4. Effects of shortages of ventilators
Lot of efforts are urgently required to reduce and minimize the gap between the requirement and the supply of ventilators. Currently, there are very few companies all over the world that possess the expertise to manufacture ventilators. The suppliers to these companies should be supported to maximize the supply of raw materials needed produce these devices. In addition to this, efforts should be made to encourage more new industries to start producing cost-effective ventilators. Sharing of ventilator technology in this need of hour can prove to be very useful for the treatment of COVID-19 patients. Government agencies must put in their best efforts to coordinate this sharing strategy and play a critical role in closing the gap between the need and availability of these medical machines. If the coordinated effort is not put in, then it may result in the situation where the patients may not get the care and treatment they need especially in intensive care units. This will in turn lead to the drastic situations seen already in some of the countries such as Italy and USA. The European Union has issued a statement that its utmost priority should be to help and support the already existing manufacturers of ventilators in order to ramp up their production [9]. Thousands of experts, entrepreneurs and volunteers around the world are developing a different potential solution: creating open-source ventilators [10]. With access to relatively simple designs, makers in Africa or South America could build ventilators quickly and cheaply using already available hardware and infrastructure and since all the intellectual property of these projects will be free to use and licensing, copyright issues won't get in the way of builders. Apart from the shortage in the supply of ventilators, their high cost is a barrier to procure by most developing and underdeveloped economies. Hence, there have been several innovations done out of necessities by the doctors, engineers and engineering companies in India. Electronic and vehicle manufacturing companies have been roped in to manufacture ventilators quickly and at low cost. The engineering institutes have also been working to design and manufacture low cost and simplified versions of the ventilators. Postgraduate Institute of Medical Education and Research, Chandigarh has come up with a prototype for an affordable Artificial Manual Breathing Unit (AMBU) operating device, as a substitute to the ventilator. One ventilator is used for eight patients through a ventilator splitter [11].
Table 1
The role of ventilators and challenges.
S. No.
Ventilators in Covid-19 pandemic
Role of Ventilators and Challenges
1
Ventilator and its importance in COVID-19 pandemic
• Ventilators are life saving machines required for severely ill COVID-19 patients
• Two types of ventilation may be used in these patients: a) Invasive and b) Non-invasive ventilation• Invasive ventilation is superior
2
Challenge of shortage and the cost of ventilators
• There is an acute shortage of ventilators for COVID-19 patients
• Their high cost and availability is a challenge
3
Effects of shortages of ventilators
• Severely sick people are getting affected from getting the optimal treatment
• Innovative means of manufacturing and optimising their use is being tried out
4
Solutions for overcoming the shortage of Ventilators:
• Several engineering companies are being roped in to manufacture the ventilators
• Medical specialists trying to optimise the use of ventilators
• Alternative methods of ventilation like an Ambu Bag are being used in innovative ways
5
Role of 3-D Printer technology in ventilator production
• The use of 3D printing in manufacturing the parts of ventilator quickly and cheaply seem promising
Source: https://www.ncbi.nlm.nih.gov/pmc/articles/PMC7198404/
Image: https://static01.nyt.com/images/2020/03/17/business/00VIRUS-VENTILATORS-01/00VIRUS-VENTILATORS-01-mobileMasterAt3x.jpg
Analysis:
The purpose of the article outlines a present issue with not only hospital ventilators, but as a result of a given airborne infectious virus, the need for ventilators increasing along with the required individuals needed to operate. With an increased number of hospital patients, the necessity for ventilators has, too, increased in aiding the treatment of patients that need support breathing. Though there has been a shortage as a result of a supply chain issue. Overall, this information provides insight to the rate in which ventilators are needed by patients and ensuring those who need support are provided the appropriate equipment. Therefore, researching into varying manufacturing processes, part incorporation, and potential assembly can reveal information for how ventilators can be implemented without the bulk of parts and pieces. Ventilators should be implemented all throughout hospitals with a patient specific mindset, and if there is a short supply then patients are no longer of interest as the caregivers are not properly equipped.