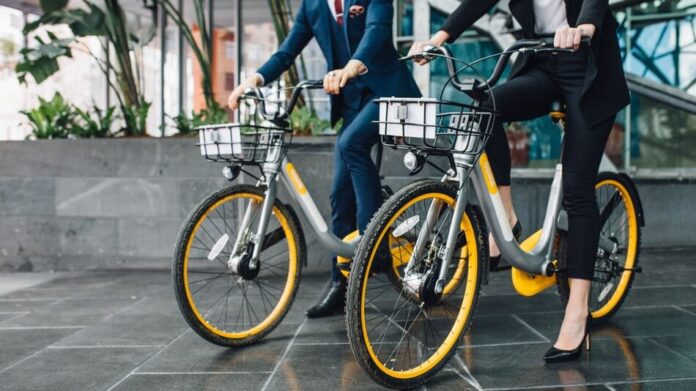 In order to understand the following cost centers: bike purchase, technology (app), maintenance and support, marketing, human resources, etc.
110 million or more people commute daily in the US using their own Cars (covering ~2 billion Kms in a day) compared to roughly 8 million using Transit, 4.5 million by walk, 0.8 million using bikes, 13 million carpool and other means of public transportation in the Urban areas totaling to an average of 26 minutes of commute time for work. These short travel added with inconvenience in connected public travel infrastructure (i.e. switching a bus to catch a train, etc.), expensiveness in services (sometimes a helicopter costs less than a car- Read) and environmental damages (i.e. roughly 500 million kg of CO2 emission adding to the global warming) is slowly fuelling the demand of a convenient, cost-effective and environmental friendly infrastructure of connected transportation.
Jump, Bird, LimeBike, Mobike, Ofo understood the concept and came up with a bike-sharing model of connecting the "not so well connected on a micro-level" infrastructure adding convenience and affordability for people. Such businesses run on technology/app that allows a person to search a nearby available bike/e-bike that they can unlock, ride and drop wherever they want with 100% online payments. With the penetration of smartphones and the internet to a wider mass, such services are easily accessible and hence solving a big problem of the daily commute.
Let's understand the unit economics of such business models:
Bike-sharing completely eliminates a "UBER driver" situation as you are the driver hence more profitability per ride than UBER or Lyft. 150 million people commute in North America daily to work and more than 10 million of them use public mode of transportation (furthermore 45% of Americans do not have access to such modes of transportation) and some proportion of this would become our target market that would use bike sharing transportation, subtracting the proportion of people taking UBER as a primary source of convenient and faster transportation.
The cost of one ride is roughly $ 0.3 per minute (has increased recently) and if only 10% of the people using public transportation use the bike-sharing model for connecting themselves to their destination, we are looking at 100,000 people using them daily. On average if a person rides it for 10–30 we are looking at $3 million to $9 million spending DAILY. This totals to roughly $600 million to $ 2 billion dollar market in a year considering the current trends. This takes us to the max market capitalisation in North America if we were to capture such people who would use bikes for a daily commute. Currently, the market is sitting roughly at $200-$300 million and it convinces me that there is huge upside potential. There is a reason why North America is the fastest-growing market.
Analysis
This article provides insight into an area of research that I have not yet looked into, but relates closely with the concept design. Bike sharing connects heavily with the ideas of urban activity, the daily commute, and the ability to use the mobile device for a quick and simple task. The increase of the biker also increases the likelihood of the urban walker, as the bikes can only go so far sometimes. Increased foot traffic creates an important opportunity for the Dayton space, as the space needs to be clear and concise about what it is in the several seconds that it takes to walk past. But if the professional understands the space, it is bound for success. It is also important to acknowledge how commuting to work via bike, foot, or communal public transportation is a much eco-friendlier option than driving individual cars into a single urban space. This in turn also allows for the urban setting to have less noise pollution of cars. It's important to consider all of these factors when designing an outdoor workspace for professionals, to make sure they want to use it.