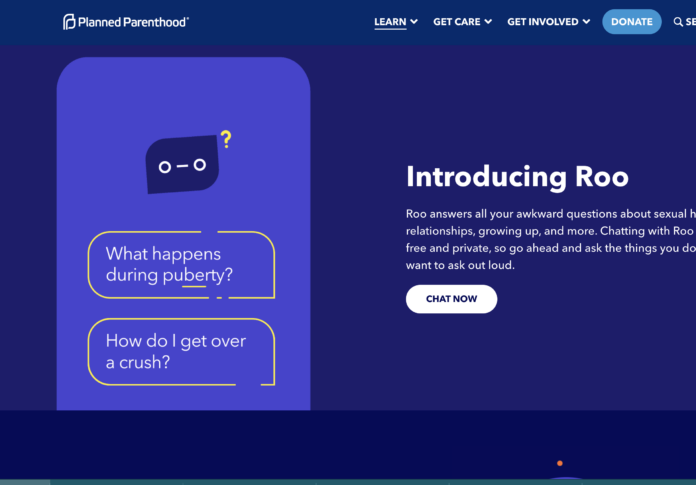 By: Meredith Betz
Published by Nonprofit Quarterly (NPQ)
January, 2019
Planned Parenthood is hoping they've figured out how to get sex education out to teens with a new chatbot app called "Roo." The nonprofit is banking on the premise that if you want to reach teens with sexual health information, you have to go where they hang out. Since the age group gets most of its information online, and more specifically via mobile apps, the organization has created the chatbot to give teens a chance to ask questions they might not ask their parents, all through the privacy of their cellphones.
The bright, purple-screened Roo gives personalized information and advice. Designed specifically for 13- to 17-year-olds, it has been in development and testing since last year. It was officially launched last week.
Planned Parenthood has partnered with the digital company Work & Co. on development, design and a marketing strategy for the non-gender-specific and intuitive app. A Bushwick, Brooklyn-based charter school, Math, Engineering and Science Academy, tested the product.
Roo's interface is dynamic and will evolve over time as it used. Subject matter will include information about anything from puberty, sexually transmitted diseases, and pregnancy to crushes and masturbation. The app is meant to give teens judgment-free information in lieu of going to unreliable sources or YouTube. If Roo can't provide answers, the app connects them to live educators and other resources.
"We know that many young people are nervous or embarrassed to ask questions about their sexual health," Planned Parenthood Federation of America president Dr. Leana Wen said in a statement. "They often go online to get information and ask their questions anonymously. It's important that our youth receive a reliable answer they can trust."
Planned Parenthood contends that it is necessary to reach a hard-to-reach target audience who may be receiving abstinence-only information or no sex education at all. It's an aggressive strategy to counterbalance conservative lawmakers and anti-abortion groups that have sought to defund the organization.
"Helping teens access trusted information—especially since so many young people aren't getting the sexual health education they need—makes this a rare sort of digital product," Work & Co co-founder Gene Liebel said in a statement.
This tech initiative is not Planned Parenthood's first. The organization has already launched Across the Line, a virtual reality film designed to address the harassment that many patients, providers, and health workers experience in abortion clinics and instill empathy in its viewers. The nonprofit's "period app" tracks a woman's fertile windows and ovulation calendar.
Planned Parenthood reported in April of last year that their Chat/Text program, a service that allows users to text or instant message with a health educator, hit 1 million conversations. With the advent of Roo, the organization expects those numbers to rise dramatically.
We can anticipate that Planned Parenthood's Digital Product Lab will continue to be relentless in providing reproductive health information. Planned Parenthood's executive vice president, Dawn Laguens, contends, "Technology has opened up new fronts and given us new tools to give people the information and care they need. We use technology lots of ways: to leapfrog the barriers too many patients face when they're trying to get health care, to get folks involved in this fight, and to reduce the stigma surrounding sexual and reproductive health. On all these fronts, technology is changing the game for Planned Parenthood."
Fast Company contributor KC Ifeanyi writes, "Seeing as how Trump's administration is hell-bent on dismantling key elements of women's healthcare, building a digital arsenal is a must."—Meredith Betz
---
Source: https://nonprofitquarterly.org/planned-parenthood-launches-sex-ed-app-for-teens/
Why this article: This article is probably the best introduction to current web technology and use of chatbots and blog/websites as a means to educate teenagers. If you're gonna click on one link, go click on Roo and check out the website. Everything about this chatbot is amazing; from cute animation and graphics, to the way questions are presented and education is encouraged. It's a wonderful piece of UX that encourages behavior.