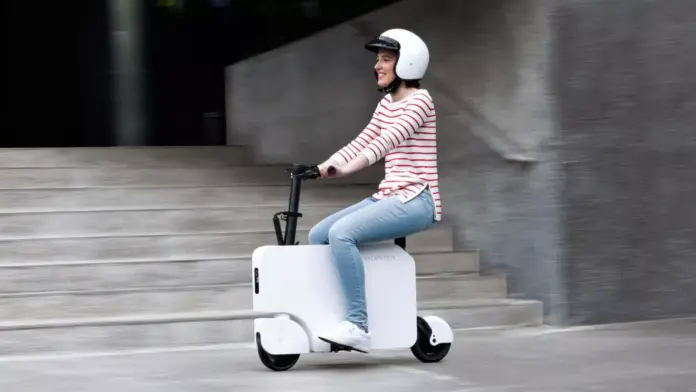 For $995, the Honda Motocompacto is an e-scooter that will get you 12 miles of range in less than four hours of charging, and will fit in the trunk of your car
Published: September 15th, 2023
Writers: Sebastien Bell
Link: https://www.carscoops.com/2023/09/honda-motocompo-returns-for-the-21st-century-as-a-cute-foldable-electric-scooter/
One of Honda's weirdest and most intriguing ideas of the '80s was the Motocompo, a small, folding motorcycle that could fit into the trunk of a compact car. Now, it is resurrecting the idea for the 21st century.
"Motocompacto is uniquely Honda – a fun, innovative and unexpected facet of our larger electrification strategy," said Jane Nakagawa, vice president of the R&D Business Unit at American Honda Motor Co., Inc. "Sold in conjunction with our new all-electric SUVs, Motocompacto supports our goal of carbon neutrality by helping customers with end-to-end zero-emissions transport."
Reborn as the all-electric Motocompacto, the briefcase-shaped scooter offers commuters a compact last-mile solution for their journey. Powered by a 6.8Ah battery, it has a range of up to 12 miles (19 km), and can be recharged from a 110v plug in just 3.5 hours.
With a 490-watt (0.6 hp) motor powering the front wheel, the Motocompacto has a top speed of 15 mph (24 km/h). Meanwhile, its cleverly designed aluminum body means that it can fold up into a compact shape and be carried inside for charging, or put into the trunk of a vehicle. If more than must be stored, the body also means that it is stackable.
"Motocompacto is easy to use and fun to ride, but was also designed with safety, durability, and security in mind," said Nick Ziraldo, project lead and design engineering unit leader at Honda Development and Manufacturing of America. "It uses a robust heat-treated aluminum frame and wheels, bright LED headlight and taillight, side reflectors, and a welded steel lock loop on the kickstand that is compatible with most bike locks."
Tipping the scales at 41.3 lbs (18.7 kg), it isn't exactly a featherweight, but as far as scooters with a seat go, it's pretty light. In order to make it affordable for city-dwellers and college students (where the Motocompacto is likely to be its most useful), Honda has endeavored to keep it cheap, and prices start at just $995. If you don't mind spending a little more, it will also offer a branded line of accessories, such as helmets, backpacks, apparel, and more.
---
Commentary
Its interesting to see some of the things that Honda produces that are no cars. These types of technology are a glimpse into the issues or topics that Honda is also researching. The description of the Motocompacto is "…uniquely Honda– fun, innovative, and unexpected". These kind of designs are important because they help explore new, creative ideas without constraints. I like how this technology was brought back because of the resurging popularity of personal scooters. The Motocompacto can be compacted into the trunk of a car, is stackable, and can be easily stored. I want to look at the design of this more closely. How has Honda approached compact design? How has Honda tackled compact transportation? Can this be applied to a car accessory that can help with curbside pickup and groceries? Going to the Honda Heritage Museum, I got the opportunity to see other products like this too.