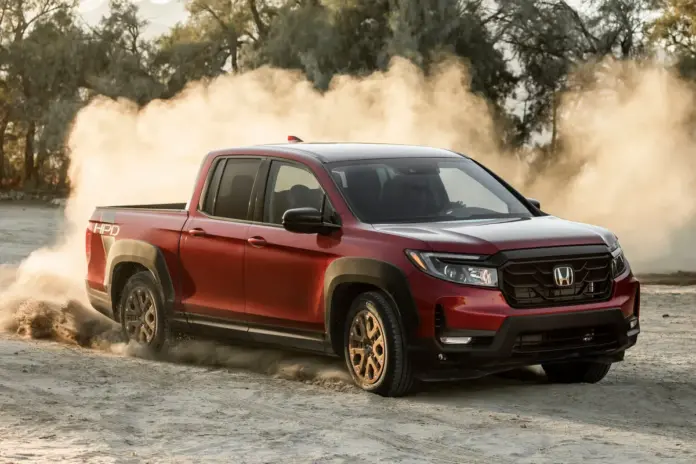 It might be time for the Honda Ridgeline to finally receive its glow-up with beefy rugged upgrades. While the Ridgeline is spacious, comfortable, and full of utility, it hasn't been able to keep up off-road. But the 2024 Honda Ridgeline TrailSport could change the game.
Published: July 11th, 2023
Writers: Allison Barfield
Link: https://www.motorbiscuit.com/2024-honda-ridgeline-finally-getting-off-roading-upgrades/
The 2024 Honda Ridgeline could be redesigned to kick off the third generation. This means that it could have a new exterior design with modern updates. It could have new LED lights, a larger grille, and an updated front bumper.
It's expected to have a more rugged and confident look to better compete against rivals. The rear end could have a new taillight design and upgraded bumper as well. New wheel designs will complete the look.
If the Honda Ridgeline TrailSport emerges, then the more off-roading capable truck could be equipped with a suspension lift, alloy tires, beefy all-terrain tires, tow hooks, and protective skid plates.
But the 2024 Ridgeline is still expected to have all-wheel drive and a unibody suspension instead of a traditional body-on-frame build with four-wheel drive. While AWD limits suspension travel, it's still incredibly capable.
Other upgrades may include trail cameras, hill descent control, hill start assist, an enhanced AWD system, and more off-roading modes.
The 2024 Honda Ridgeline might get a new engine. The current engine is a 3.5-liter V6 engine with 280 hp and 260 lb-ft of torque. It's paired with a nine-speed automatic transmission and can accelerate from 0 to 60 mph in about 6.3 seconds.
But it can only tow up to 5,000 lbs and carry a payload of up to 1,583 lbs. The payload capacity is actually impressive, but rivals can tow more. It needs to get closer to the 7,000 lb mark to earn more respect.
There have been rumors about a new Honda Ridgeline Hybrid floating around. However, according to Car and Driver, that's not in the cards yet. Reportedly, Honda shared that the Ridgeline and Pilot will not receive a gas-electric powertrain for 2024.
But it could receive the new 3.5-liter V6 engine with a few notable upgrades. For example, it switched from a single overhead cam to a double overhead cam setup, an improved fuel delivery system, new internals, and enhanced packaging.
It will be paired with a 10-speed automatic transmission. The new engine could provide more power and be a little faster. The Ridgeline currently gets an EPA-estimated 18 mpg in the city and up to 24 mpg on the highway.
Yes, the 2024 Honda Ridgeline will have an updated, modern interior with higher-quality materials. Plastics and hard materials could be replaced with durable, attractive trim pieces such as genuine wood and soft-touch-covered materials.
The Ridgeline has been dropping hints about rugged upgrades and desert racing, so it's possible that new durable materials could be added. All-weather rubber mats may protect the interior.
A larger unit could replace the 8.0-inch touchscreen, and it's safe to expect an updated digital gauge cluster. The head-up display could be improved as well. Also, we hope wireless Apple CarPlay and Android Auto are added.
So far, only spy shots of the new Ridgeline have been captured where it's covered by camouflage. But we do know something new is on the way, and it could be more capable. We haven't seen new spy photos since March, but we're still keeping an eye out.
---
Commentary
To see how Honda is going to improve their Ridgeline design is a way of seeing what new features the customers are asking for and what new audiences Honda wants to reach. Based on these possible 2024 updates, Honda is looking at a new group of stakeholders. The 2nd generation of Ridgelines were aimed at users looking for a comfortable vehicle with a lot of heavier duty storage space. People who like to go camping, fishing, or tailgating. This article talks about the addition of off roading to the next models of Ridgeline meaning their audience is expanding to hard core hikers, off roaders, and mutli-terrain use. This can be used for long term camping, hunting, or even towing of other off road vehicles. It also seems with the updated interior designs, Honda is looking to go with a more luxurious aesthetic instead of the classic Honda Pilot comfort aesthetic. Looking at models coming ahead can be useful when adapting new car features because it allows us to predict what kind of visual brand language to use, how advanced the new features can get, and which audiences of customers to target.