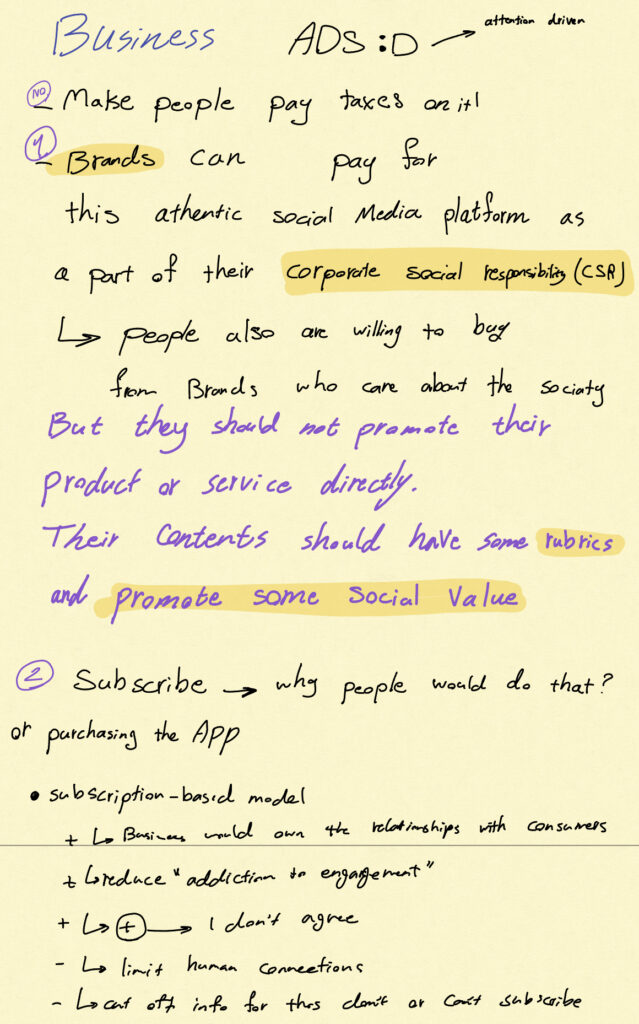 For this week's conjecturing ideas, I tried to also design experiences without focusing on app ideas. So, as we talked about in class, designing a digital platform is just a form of user experience design rather than all of it.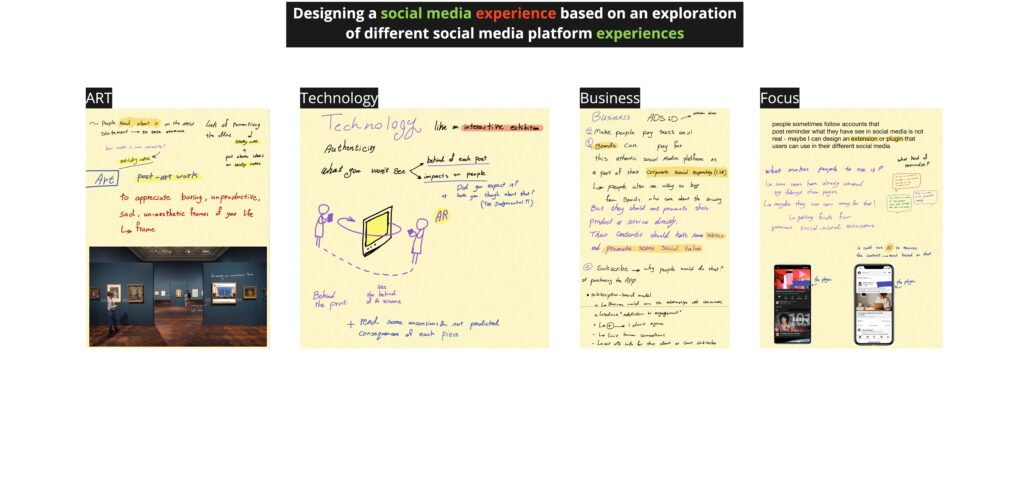 The business-focused conjecture is kind of working on creating a new business model for an app that could be designed based on my topic.
The first thing that may come to mind is ADS! I know it is so basic and harmful. But I should read more about it even if I do not want to consider it. And also, if I want to promote positive behavior, the idea could not be best in everything, so maybe ads help promote this positive change too.
The other obvious idea is a subscription-based model. But the question here is, why do people want to pay to use this App? The idea of the App should bring value that tempts users to pay for using this App. That made me read more about the pros and cons of subscriptions. Based on "The Search for New Social Media Business Models" article published by MIT initiative on the digital economy, one of the positive points of this model is that businesses would own the relationships with their consumers.
Moreover, it reduces the "addiction to engagement" for the business. On the other hand, it could also limit human actions. For example, it could cut off information for people who don't or can't subscribe.
The third idea is that Brands can pay for this authentic social media platform as part of their corporate social responsibility (CSR). Because based on a few articles I have read, people are more willing to buy from brands that care about social problems. But in this case, there should be some rubrics for how brands are active on the mentioned social media. For instance, they cannot promote their products or services directly. Or every content they share should promote a social value.
I believe working on the business side of this topic is complicated, and these ideas could not be practical at all. Since I am sure there are many challenges and conflicts in the business world that don't let the idea be pure or with just positive outcomes. So, I should learn more about social media business models and how they work.