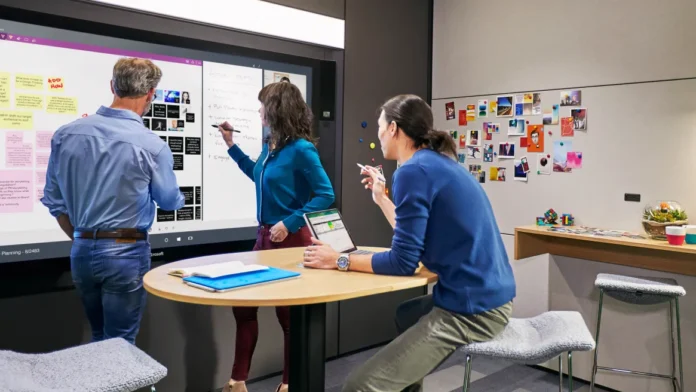 Summary:
To support this creative process, we need a new set of creative places and technologies. Until now, space and technology in the workplace have often been planned separately by different teams with different objectives. That's why Steelcase and Microsoft are working together to develop Creative Spaces, an immersive ecosystem that brings together space and technology to help people generate new ideas and move them forward.
This new set of Creative Spaces includes a range places and technologies to enable a creative rhythm. A balanced ecosystem includes technology that is both mobile and integrated into the physical environment as well as spaces designed for individual "me" work and "we" group work.
The Focus Studio is where ideas incubate before sharing them with a group. It supports individual creative work time and the ability to get into flow quickly while also allowing quick shifts to two-person collaboration.
The Duo Studio was created with the knowledge that working in pairs is an essential behavior of creativity. This space helps build trust — two people can co-create shoulder-to-shoulder while also supporting individual work. An informal lounge setting creates a place to relax and re-energize during intense work sessions.
The Maker Commons encourages quick switching between conversation, experimentation and concentration. Here, people can socialize ideas and engage in rapid prototyping — essential parts of creativity. To achieve privacy and focus in open areas, a work lounge with privacy screens creates a cocoon-like environment where people can bring their mobile devices and do focused work.
The Ideation Hub is a great place for brainstorming. It's a high-tech destination that encourages active participation and an equal opportunity to contribute. Here people can co-create, refine and share ideas with co-located or distributed teammates.
The Respite Room is designed with the understanding that creativity requires balancing active group work with solitude and individual think time. Here, people may generate their own ideas without interruption or spend time absorbing information they just heard.
Analysis:
This article provides a really good example of how different spaces create different kinds of collaboration. The science of spatial design is very interesting, and this article details different layouts from individual work and group work. While the focus is on how place and technology drive one another, it is more focused on how people behave. It gets me thinking about how these different configurations could work in just one room. Right now, it is only guaranteed that the DPP lab will be just one room, and it will have many different needs. Adjustable height tables & chairs, storage for analog content, and modularity all seem to be similar themes of these rooms. While these are interesting points, I truly think there could be more to uncover for the DPP lab; I really want to focus on creating something unique to this specific space. One thing I will note is that the key features of each room include posture, privacy, and proximity. Each room supports these three functions, having key features in mind while designing will be helpful.
Source:
Specialist Rebecca, R. C. S. C., Charbauski, R., Specialist, S. C., & Rebecca. (2020, October 8). Place + technology drive creativity. Steelcase. Retrieved September 12, 2022, from https://www.steelcase.com/research/articles/topics/technology/place-technology-drive-creative-performance/