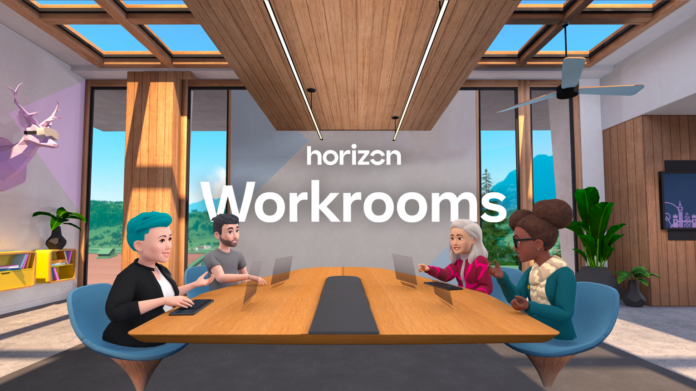 Facebook released a free beta for Horizon Workrooms, a "mixed reality" meeting tool that the tech giant is calling its "flagship collaboration experience." Seemingly poised to compete with other remote communication platforms like Zoom and Google Meet, Workrooms offers something different: a virtual reality gathering space for business meetings and general productivity, built around the Oculus Quest 2.
"[In a virtual reality collaborative space] you remember conversations better and you remember who said things better, because you're using more of your brain," LeBeau said in the press event, comparing Workrooms to standard video calls. "We know it's going to be useful, but we don't know the extent to which it's going to be useful."
Usually, you play and interact with the Oculus Quest 2 with wand-like controllers. Workrooms allows you to put them down, utilizing the headset's sensors to do some of the most impressive hand tracking that I've seen. You can use simple, mostly responsive, hand gestures to join meetings, set up rooms, or call up your computer screen.
Avatars, which seem like half the attraction for many VR social spaces, are nothing new. However, in Workrooms along with the hand tracking, the avatar technology comes with surprisingly good lipsyncing. When someone speaks, you can almost read the lips of the avatar.
You'd be forgiven if you suspect Facebook might also like to distract from many of the recent headlines related to its main product: ya know, that social network called Facebook. Between accusations of letting 2020 election misinformation spread, criticism over a failure to remove COVID-19 misinformation, and continuing to allow extremism and hate speech on the platform, the foundational business has inspired increasing scrutiny in the press and online.
Analysis:
This article details Facebooks new VR workspaces called Workroom. This got me thinking about the HYVE and how it could facilitate meetings like this. Could the DPP lab end up being a virtual space? Or how can the digital space inform the physical? Could classes be taught inside the HYVE? How many people really need to be physically in the space? How meta could this really get? The article touches on the fact that even the creators of Workrooms have admitted that, "the full potential has yet to be explored;" which I would say also applies to the HYVE. There's so much potential for this technology that has not yet been defined and diving deep into that potential is where insights for the space could really come out.
One of the downfalls of workspaces like Workroom is how expensive it is, it costs hundreds of dollars, requires sharing data across multiple companies, and is not easily accessible. This is where the HYVE is different, it does not require expensive technology and is accessible to the community. I believe building on that message is important.
Source:
Clark, P. A. (2021, August 19). Facebook announces workrooms, a collaborative VR Space. Time. Retrieved September 12, 2022, from https://time.com/6091395/facebook-workrooms-vr-metaverse/