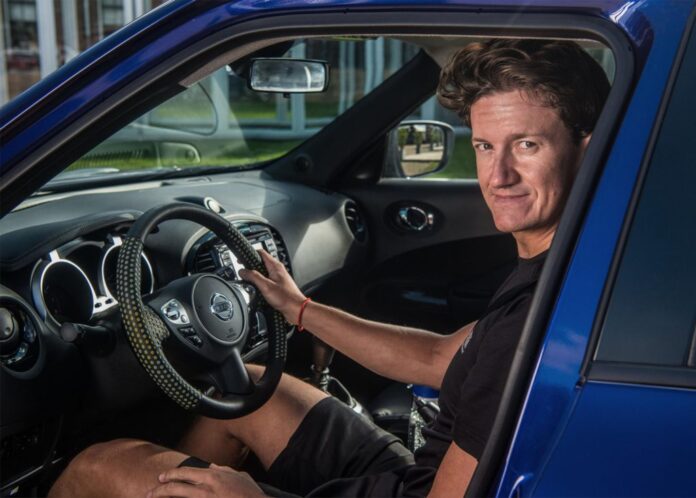 In conjunction with Dutch design brand Droog, a sweat-sensing technology coating called SOAK has been integrated into a Nissan Juke crossover. By applying it to the Juke's steering wheel and front seats, the manufacturer believes it creates a simple yet effective alert system to warn drivers that they need to drink more water.
The SOAK coating works by changing colour when it's in contact with perspiration – for example, on a person's hands or clothes after exercise. When drivers are dehydrated, the SOAK coating turns yellow and when they are rehydrated, it turns blue.
Harj Chaggar, medical consultant for NISMO, comments: ′While many athletes are well-versed on keeping hydrated, many people outside the sporting sphere remain unaware of the impact of dehydration on physiological performance. Sweat-sensing technology built into a car is an innovative way of highlighting this, aiding prevention by warning the driver directly.'
Paulien Routs, a Droog researcher and designer who created the technology, adds: ′I originally created SOAK to be used on sports clothing. My vision is to create innovative solutions that aid the wearer in some way, using new technologies to bring function to fashion and textiles, as well as establishing new ways of interacting with our health and bodies.'
Analysis:
Hydration is issues that many people are inept with regarding knowing the signs of when one is dehydrated and the effects on the human body. It very interesting that SOAK was able to get enough information through a user's hands. This type of technology would be useful to look into during my research process due to the wide range of parts I could explore that don't typically involve drinking water. The car also opens up different locations in which hydration could be explored.