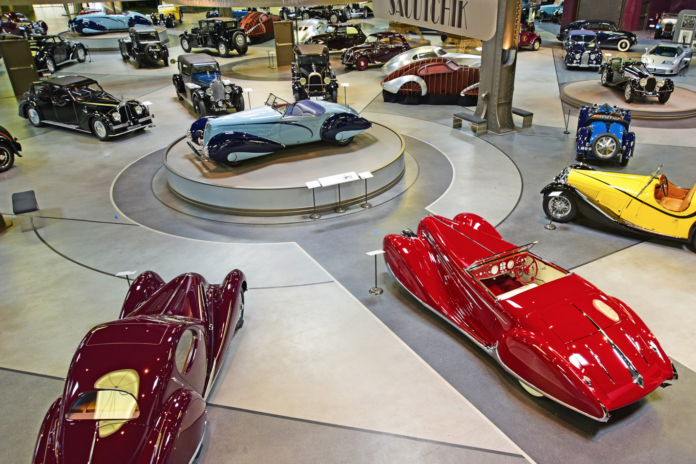 "Those same designers and builders were also influenced by the Art Deco revolution of the day, leading to the creation of some of the most astonishingly beautiful and technologically advanced automobiles ever built. Museum founder Peter Mullin said, "I became captivated with the body styling of French vehicles from that period. The Art Deco curves make these machines rolling sculptures of art.
"This era of coachbuilding was marked by the elegant automobiles commissioned by some of society's most prominent members. Designers crafted bespoke works of rolling art atop powerful chassis manufactured by car builders.
A Delahaye may have started it all, but Mullin's personal favorite is the 1937 Talbot-Lago T150-C-SS "Goutte d'Eau" ("teardrop" in French) designed by Figoni. Mullin described the 1937 Talbot-Lago teardrop as "the most beautiful vehicle in the world."
Car design bled from other countries into the same vehicle market and mixed classic/ unique styles from foreign car manufactures, creating new body/interiors. Since cars were for the wealthy in the time period that the cars on display were manufactured, more attention to detail was paid into creating statement pieces. These cars were often in the most expensive materials that could look new longer. Cars also took longer to build, as customization had to be done by expert fabricators. They were also designed for men, as they were bought by prominent men and displayed by men.
The uniqueness could be brought back as most economy cars look very similar. A change in body style could bring more popularity as the Civic hatchback redesign in the 2010's caused a massive spike in civic sales, and they are more identifiable on the road at a glance.
Bourdon, Stuart. "Mullin Automotive Museum: VINTAGE French Art Deco Cars." Autowise, 1 July 2021, autowise.com/mullin-automotive-museum/.