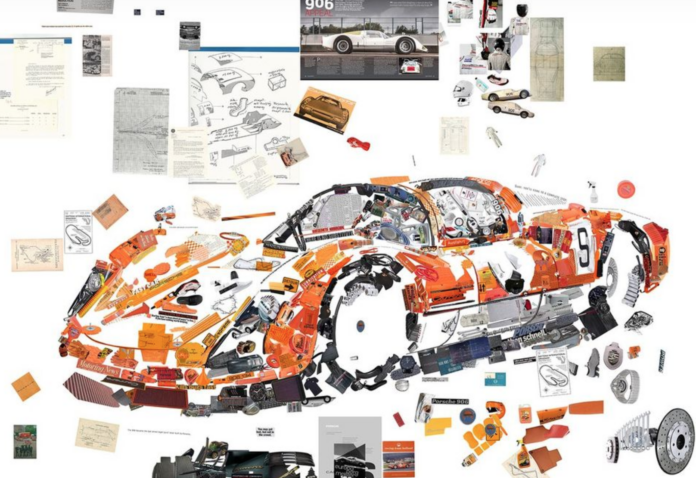 "Queally won the opportunity to have his car memorialized by Mraz—who has worked with famed car collectors like Peter Mullin and James Glickenhaus, as well as the winning cars of the Amelia Island and Pebble Beach concours d'elégance—in an auction held at the Art in Motion concours at Monticello. He was thrilled. Mraz was equally excited to document this piece of automotive history.
"When I focus on a car, I want people to be interested—not just car people," she says. "Automotive design is art. But I also want them to really look at the car as an important part of culture and see what it did for humans."
The Porsche 906 is notable in part because it was the first car Porsche tested in a wind tunnel. Developed under the aegis of Ferdinand Piëch—the maniacal head of Porsche research and development at the time, a grandson of company founder Ferdinand Porsche, and eventual chairman of the Volkswagen Group—the car was designed with one goal: to beat Ferrari.
Queally had amazing documentation on the vehicle. "I bought the car about eight or 10 years ago, from an auction," he says. "After that purchase, someone called us from the Netherlands and said, 'I have all of the memorabilia from the day this car first raced.' It came over in four big Banker Boxes."
https://www.caranddriver.com/features/a37091896/artist-heidi-mraz-porsche-906/
What is significant about this story of how this art work came to be is the admiration from many people for one vehicle, showing an intense love for automobile design and racing. Even people who do not know anything about cars can "love" their cars and form an emotional attachment to memories they had with the vehicle.