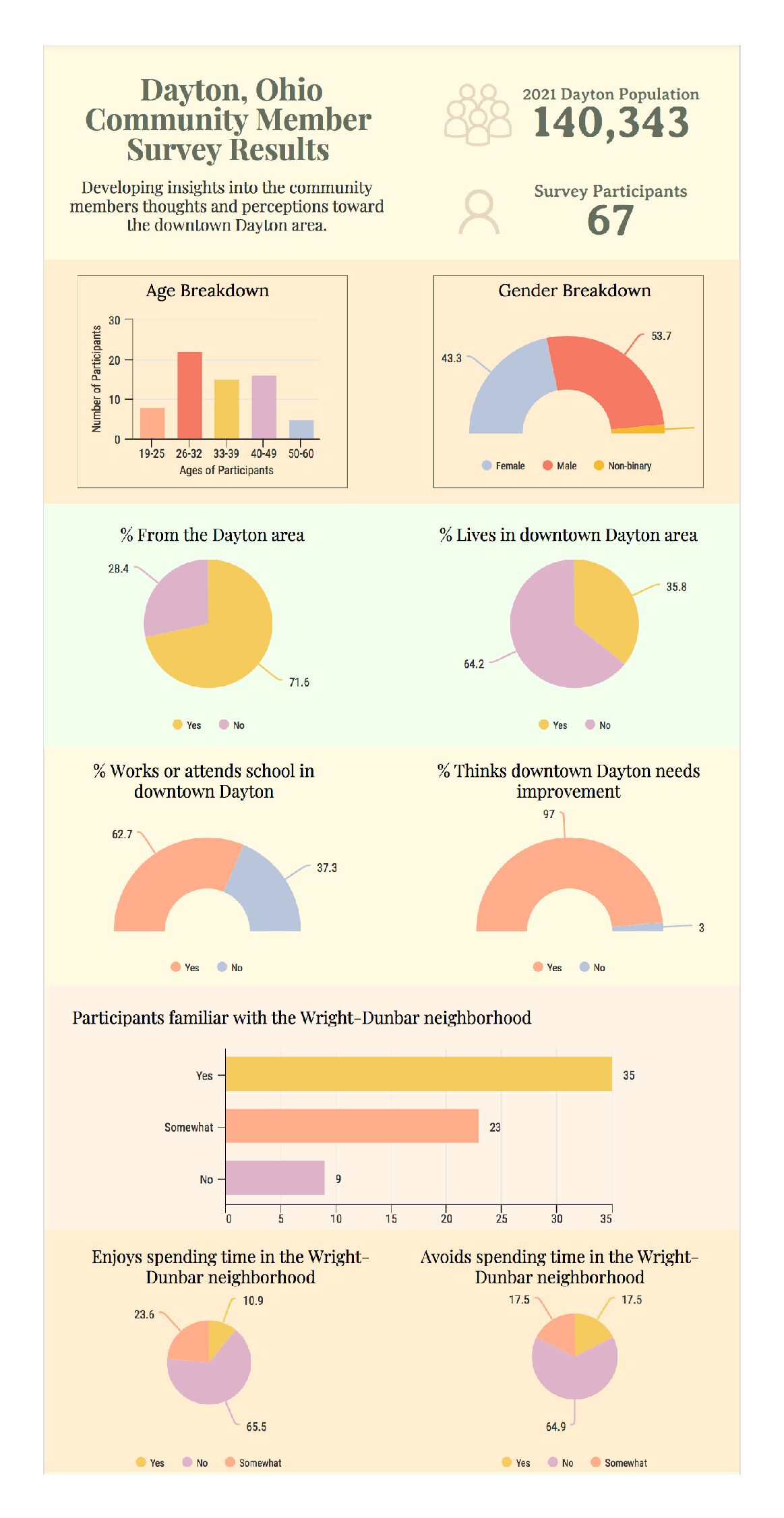 The aim of my survey was to gain a better understanding of Dayton locals and their relationship and perception of the area. The Dayton, OH population consists of 140,343 people, and my survey reached 67 participants through a Dayton, OH subreddit. The age ranges of participants was 19-60 years old, with the largest age group being 26-32. More than half of the survey participants identified as male at 53.7%, while 43.3% identified as female, and 2% of the participants identified as non-binary.
71.6% of participants said that they are from the Dayton area, but only 35.8% of those participants live in the downtown Dayton area. 62.7% of participants work or attend school in the downtown Dayton area. The survey asks if participants think downtown Dayton needs improvement, and 97% answered yes.
Questions surrounding the Wright-Dunbar neighborhood include whether or not participants are familiar with the area, and 35 out of 67 said yes, and 23 of 67 said somewhat. These statistics indicate that roughly 87% of participants know of the Wright-Dunbar neighborhood to a certain degree. Of these participants, only 10.9% said that they enjoy spending time in the Wright-Dunbar neighborhood, although 64.9% of participants do not necessarily avoid spending time in the area.
The main takeaways from this survey is that the downtown Dayton area needs improvement, and while the Wright-Dunbar neighborhood is not avoided by Dayton locals, not much time is spent there.
Dayton, Oh statistics: https://worldpopulationreview.com/us-cities/dayton-oh-population
Survey data from participants on Reddit