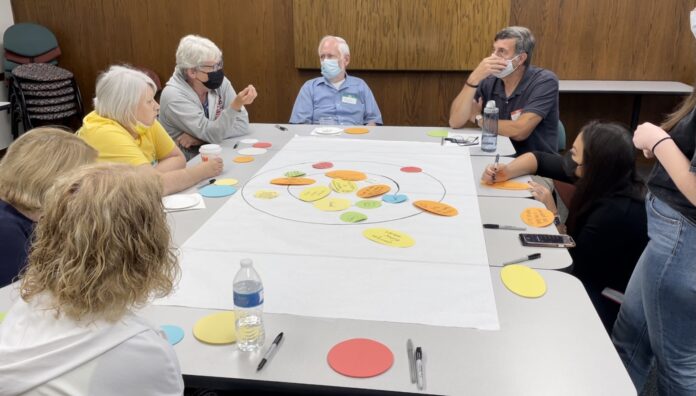 Social isolation is a major factor in the wellness of aging adults. Many people begin to experience issues with their physical mobility as they age, which often increases the likelihood of an older adult experiencing the negative effects of social isolation. However, having social connections is a key element in aging well, alongside financial security, adequate housing, and health. The COVID-19 pandemic has made it very difficult for aging adults, particularly those who do not always have a secure means of transportation, to maintain relationships and get to where they need to go.
The city of Upper Arlington is a suburb of Columbus, Ohio about 10 minutes west of the Ohio State University's main campus. According to the US census, the 2020 population of Upper Arlington was estimated to be 36,800 (U.S. Census Bureau). Approximately 17.2% of Upper Arlington's population consists of people aged 65 and older (UACOA), which is slightly higher than the portion of the national population that is 65 and older, estimated to be 16% in 2019 (Administration for Community Living).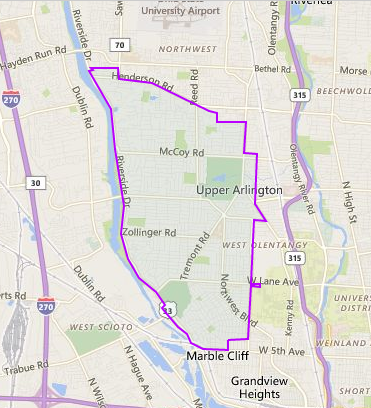 Driving is the most common mode of transportation amongst Upper Arlington residents, and older adults are no exception. In a survey conducted by the Upper Arlington Committee on Aging (UACOA), 95.3% of respondents aged 65 and over said that they primarily drove themselves to get where they needed to go. This can border on dangerous, as it is fairly common for older adults to continue driving past the point where it is no longer safe for them to do so. The same UACOA survey asked older adults about how they would want to get around if their primary means was no longer an option. In this case, 68.4% of respondents said that they would rely on their friends, family, and neighbors to drive them to appointments and run errands- another situation in which personal vehicles are the primary mode of transportation.
In the first meeting with our project partners, UACOA and the Age-Friendly Innovation Center (an organization established by Ohio State's College of Social Work), the concept of a new circulator bus system was brought up. The circulator, which is set for a January 2022 pilot run, is being implemented to assist older adults in Upper Arlington with getting around the city. It is intended to provide older adults with a mode of transportation that is created specifically to address their needs, and would provide service to and from various destinations in Upper Arlington.
Many groups will be impacted by this proposed circulator. The primary group is older adults in Upper Arlington, who will have access to a new mode of transportation that is designed to suit their needs. Our project partners, the Upper Arlington Committee on Aging and the Age-Friendly Innovation Center, will be overseeing the circulator's implementation and operation. The city of Upper Arlington municipal government and residents will be affected by this new mode of transportation in their city, as will the people involved in maintaining the circulator including bus drivers and maintenance staff. Even Upper Arlington shop owners and employees could be impacted, as they may see an uptick in revenue if their business happens to be located near a circulator bus stop.
In order to gain a greater understanding of the problem space, a group of two of my classmates and myself facilitated a couple of codesign sessions with older adults who are currently residents of Upper Arlington. We wanted to know more about how older adults in Upper Arlington get around currently and whether a new circulator system would even be a relevant addition to the neighborhood.
Based on the sessions with our codesign participants, we learned that there definitely is a need. Throughout both of our sessions, our codesign participants talked about their experiences with another bus service in Columbus: the Central Ohio Transit Authority (COTA) bus service. Our participants were very critical of the current COTA system, describing a few of the issues they have personally faced. One major problem is that the current COTA system is inconsistent. Participants discussed the multiple times that they have waited at the bus stop for a bus to come, only to find out a half an hour later that the bus that they had intended on taking had broke down. On some occasions, COTA sent another bus in its place that didn't arrive until much later, but on other occasions, our participants told us that a replacement bus was never sent at all, forcing them to reconfigure their travel plans. Participants stressed that it was often impossible to make time-sensitive plans if they intended on taking the bus. One of our participants, who is unable to drive, told us he moved to his current apartment building specifically because it was near a bus stop that was originally serviced by three different COTA lines. However, the bus lines have since been rerouted so that only one line still services that specific bus stop. In order to be successful, the proposed circulator would need to take these important issues into account.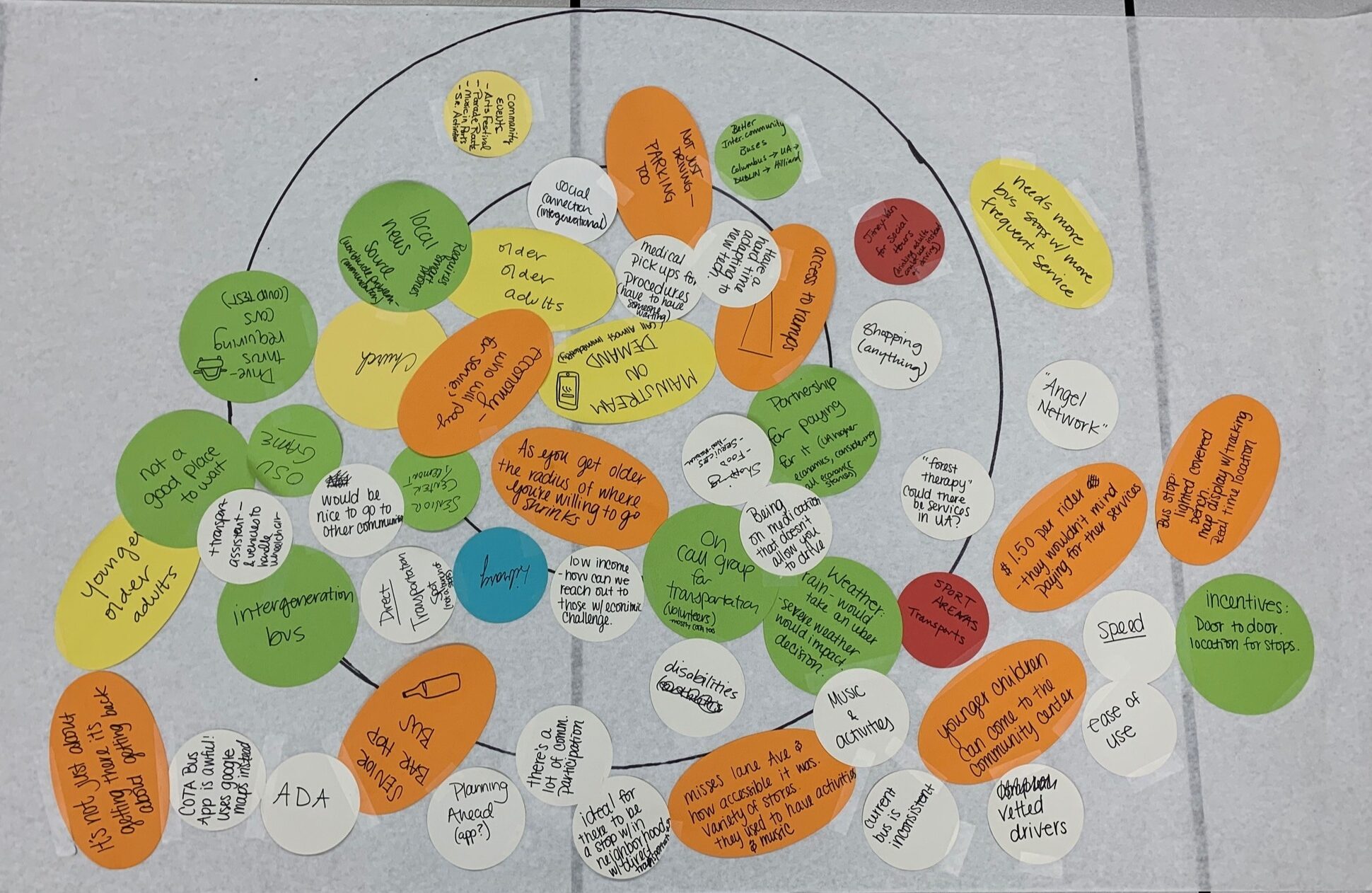 The inconsistencies extended to bus stops as well: our participants explained that some stops offered those who were waiting for the bus a covered bench and a map of COTA's routes, while other stops were little more than a pole stuck into the grass on the side of the road- not a very comfortable or weather-resistant environment for someone who is waiting for their bus.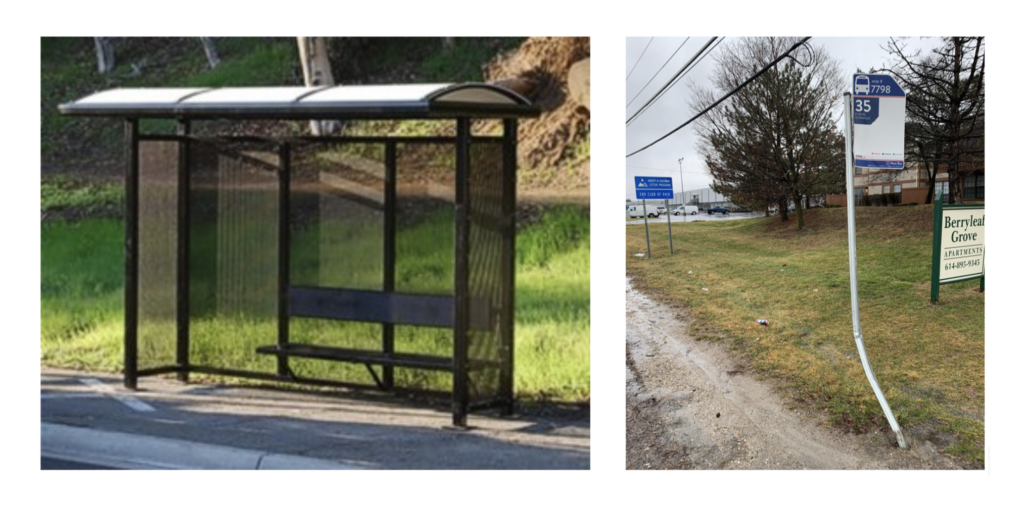 Planning and scheduling was cited as another major pain point by our participants. Many talked about the stress of planning a trip not only if they were planning on utilizing COTA buses, but also with taking other modes of transportation like shuttle buses and ride shares. If one wants to take a COTA bus they have to search for the current routes that are being serviced, how often the buses run on each route, locate the bus stops that are nearest to their house as well as their destination, figure out if they need to transfer routes, then calculate how long the trip will take and consider the time want to reach their destination to find out when they need to leave their house to arrive on time. For the reservation based-systems our participants use, they often need to use an app or call to schedule out their reservation days, if not weeks, in advance. Our participants told us that they wanted an easy way to access this information in a centralized location. They also mentioned that they would like a resource that consolidates information about local news and events, allowing them to stay up to date easily.
Something else that needs to be considered is current transportation tendencies in Upper Arlington. While a circulator would very likely be used by those who do not own a car or cannot drive themselves, data shows that this is only a small portion of Upper Arlington's population. The majority of older adults already drive themselves to where they need to go. In order to make an impact, the circulator would need to attract riders who can still drive themselves.
Social connectedness is another key aspect of this problem space that ought to be addressed. Loneliness impacts more than just one's mental and emotional health. Studies have actually shown associations between loneliness in older adults to physical health problems like higher blood pressure and dementia. Additionally, it has been linked to risky health behaviors like smoking and physical inactivity (Span).
Our codesign participants spoke about their own experiences with social connectivity during the codesign sessions. The participants stated that they thought staying connected within the community was incredibly important and many had a variety of ways in which they did so. One participant described the annual neighborhood block parties that she likes to attend. A second cited participating in book clubs, visiting the library, and attending activities at the senior center as ways that she stays connected. Another spoke highly about events like music in the park and the annual Upper Arlington Labor Day Arts Festival as places where she can meet new people and maintain existing friendships.
Considering these elements will be imperative for designing a thoughtful solution that addresses social connectedness and mobility for older adults in Upper Arlington. I think it is important that the solution enhances the experience of using the circulator in Upper Arlington, so that the circulator becomes an appealing mode of transportation even for older adults who are still able to drive themselves. The design should also foster genuine social connection and relationship building within the community, and work to alleviate the stress and uncertainty that is often associated with using public transportation.
I think this Upper Arlington circulator has the potential to impact the community in a big way. A solution that supports the circulator in encouraging social connections and providing older adults with a reliable means of getting around would help make the circulator an empowering experience for older adults. It would provide those who cannot drive with the opportunity to get around without relying on friends or family to drive them places. It would make the transition to stop driving easier for older adults who are nearing the age where it is no longer safe for them to drive. It would provide seniors who still can drive with a more leisurely and sociable alternative, and it would also have an environmental impact by reducing the number of personal vehicles on the road, producing fewer emissions and making Upper Arlington a safer, greener, and more enjoyable city to live in.
References:
"2020 Profile of Older Americans." Administration for Community Living, U.S. Department of Health and Human Services, 2020.
"Upper Arlington Commission on Aging Community Survey Findings Report." Upper Arlington Committee on Aging, 2021.
"Quickfacts – Census.gov." QuickFacts: Upper Arlington City, Ohio, U.S. Census Bureau, 2020, https://www.census.gov/quickfacts/fact/table/upperarlingtoncityohio/LND110210.
Span, Paula. "Loneliness Can Be Deadly for Elders; Friends Are the Antidote." The New York Times, The New York Times, 30 Dec. 2016, https://www.nytimes.com/2016/12/30/health/loneliness-elderly.html?searchResultPosition=1.