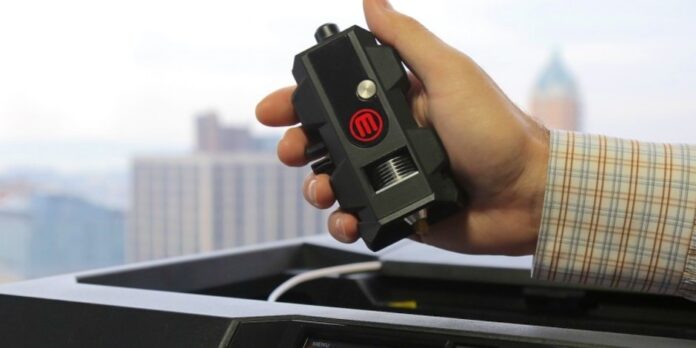 Date: January 8, 2016
Author: Seb Joseph
Publisher: The Drum
3D printing promises to revolutionise the manufacturing industry by ushering in a new wave of personalisation and yet people aren't adopting it as fast as its stakeholders would like.
"We're still not seeing the traction [in 3D printing] that we were expecting," admitted Jonathan Jaglom, chief executive of Makerbot on a panel at this year's CES. His observation was for all to see when looking at the dearth of attendees at the panel, something which is emblematic of 3D printing's presence at this year's CES. The tech has dominated recent shows but after an underwhelming 2015, there's a definite sense that it's no longer the shiny new trend and is now a maturing technology.
Indeed, doctors are now using the technology to print 3D models of organs so that they can practice techniques before performing surgery on a patient, while in 2014. astronauts 3D printed a part in hours to replace a tool that otherwise would have taken months to ship up from Earth. Add to that the arrival of a price comparison site and the fact that iteration times are getting faster, it's clear that the tech is on the cusp of wider adoption
But as it easy as it is to use a 3D printer, executives from Makerbot, Local Motors and UPS admitted it could be better and more is needed. Makerbot, for example, has over a million downloadable files for its customers to use and yet there's still work to be done to improve the software to get more people using it, revealed JAG.
"Then it's going to be about educating the market about what they can do with these tools," he continued.
The range of ways 3D printing could be used in daily lives was for all to see at this year's CES, where attendees were shown 3D printed selfies, full color 3D printing, a printer that uses paper, glue and ink to replicate objects and even 3D printed food (see below).
It's where selling business and people, particularly those from creative and education sectors, on the idea of the tech's ability to power the so called "second industrial revolution" comes in. Much of the demand for 3D printers in the home is tipped to come from the likes of engineers and artists alongside businesses looking to break from uneconomical manufacturing processes.
"It doesn't make sense for companies to scale up with industrial quality machines in their companies to match the scale they want with production, said Mitch Free, co-founder of UPS Cloud DMM.
One of the enablers to do this could be his company's development of a robust infrastructure to tap into lots of cloud based manufacturing.
"You're going to have some in-house capabilities to make things quick but there will be a need for scale, viability, and consistency and the way you do that whenever it is in the world is by tapping into a cloud-based network and that's what we're building," he added.
"We think giving people the ability to have any sort of scale that they want to create things, whenever they want it, is just very powerful. We think that's going to now make it possible for people to bring new products to the mass market without the costs of tooling, the incredible design flexibility and on-demand customisation that has been promised and talked about but the infrastructure didn't exist to make it a reality."
The lack of any killer news from the technology at the annual gathering gives credence to the idea that the fledging industry has failed to make a major step forward in terms of being commercially viable. Materials are still expensive meaning it will likely cost someone more to produce an item at home then it would If they were to purchase it from a shop.
"At the moment you can only see the commercial benefit of 3D printing for those parts that are hard get like a refrigerator part and is easy to fabricate with today's printers," said Jason Goldberg, senior vice president of content and commerce at Razorfish. He went on to claim that the wave of personalisation 3D printing will bring with it is already ruffling some fashion brands, already struggling to win over younger buyers.
"3D printed trainers at the moment are still a bit of a gimmick because they lack the different material properties and cushioning employed by Nike and Adidas," he added.
"But you can put jeans into these printers now and make any pattern you want, customising them One of the terrifying things for the apparel companies is that millennials and generation don't like the main brands. They're shopping in Etsy not Abercrombie & Fitch. They know change is going to come next year but five years from now there will probably be a meaningful number of customers that are making some products at home."
The mass-market wants something they can plug and play and 2D printing just isn't ready for that yet. It might not be this year or even next year when it gets that cut through but it will and when it does customers are going to products will be formed on an on-demand basis, reflecting their preferences and look.
Comments:
This article is from 2016 and states multiple times about how 3D printing will be in more homes in the future in 5 years. Now in 2021 3D printing is in more homes than ever but they are only in crafters or tech-savvy homes. For 3D printing to really take off, they have to be as easy and useful as a 2D printer. Something that you can just plug in a file for anything and go. There has to be an extremely easy way to create files, maybe something with liDar scanning on iPhones now. Or there can be a huge database of small parts for products or companies can sell the CAD files of the most commonly broken parts in their products. 3D printing is still in its infancy as it relates to mass market adoption, but I do think that it will get there soon.