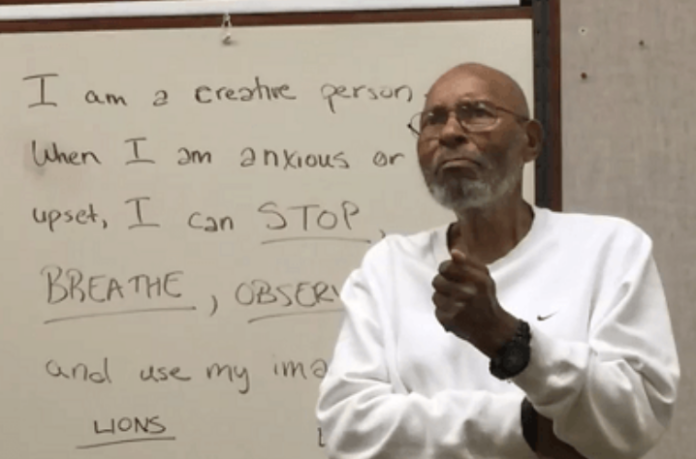 Lifting their voices for healthy aging
Singing in a community choir may be a unique approach to promote the health of diverse older adults by helping them remain active and engaged. It may even reduce health disparities. Dr. Julene K. Johnson tested this approach, leading Community of Voices, the largest randomized clinical trial to test the impact of participating in a community choir on the health and well-being of nearly 400 culturally diverse adults, age 60 and older, from 12 senior centers in San Francisco. Each choir met once a week in 90-minute sessions for 44 weeks and performed in several informal concerts. Researchers assessed participants' cognition, physical function, and psychosocial function, as well as their use and cost of healthcare services, before they started the choir program and again after 6 and 12 months.
Participating in the community choir showed positive results within 6 months. In particular, it reduced feelings of loneliness and increased interest in life. However, cognitive and physical outcomes and healthcare costs did not change significantly. Dr. Johnson attributed the improvements to the choir providing a meaningful, regular opportunity to meet new people, build social support, and increase a sense of belonging. "The study showed increased interest in life because singing in the choir provided a regular, structured activity for participants," she said. "Access to regular activities in diverse, low-income communities is vital for older adults to remain active and engaged in their community."
Theater improvising to cope with dementia
Northwestern University is looking to another art form, theater improvisation, to help older adults with early-stage dementia be social and improve their quality of life. "The Memory Ensemble" is for people newly diagnosed with Alzheimer's disease and other types of dementia who are looking for opportunities to engage in programs that fit their needs. The Memory Ensemble's 69 participants learn how to use their instincts, creativity, and spontaneity to explore and create improvisational theater. The program, developed in 2010 by Northwestern and the Lookingglass Theatre Company in Chicago, seeks to improve the quality of life for people living with Alzheimer's and related disorders and to transfer these benefits to other communities.
As part of the 8-week program, groups of 10 to 15 participants, age 50 to 90, attend 90-minute sessions that are purposely repetitive and follow a specific pattern. Two facilitators—a clinical social worker and a master teaching artist in theater and improvisational techniques—guide participants through various activities. "We wanted participants to be in a safe but challenging environment," said the program's co-founder, Christine Mary Dunford, Ph.D. "We're putting them in situations where they may feel anxiety. But our motto is, 'When I feel anxious or uncertain, I can stop, breathe, observe, and turn to my imagination, and an answer will come.' As a result, we've found they feel more successful and empowered."
The program does not aim to slow decline or improve cognition, but to help people with dementia enjoy their lives, according to Dr. Morhardt. Preliminary results show participation in the Memory Ensemble improves mood, decreases anxiety, and increases a sense of belonging, normalcy, and destigmatization, said Dr. Dunford. Participants also report feelings of achievement, empowerment, and self-discovery.
Analysis
This article discusses some experiments that explore the link between healthy aging and participation in the arts. In particular, it discusses some of the findings of a study conducted about a large choir composed of older citizens in San Francisco, as well as an improvisational theatre program in Chicago meant specifically for older adults with dementia. The choir was shown to decrease loneliness and increase interest in life, likely because the choir provided a regular, structured way for older adults to meet new people and foster a sense of belonging. The improv group on the other hand, was successful in empowering people with dementia to use their instincts and creativity to address the prompts in the improv group as well as challenges in their own lives. Both of these things provide older adults with the ability to connect with others and increase their confidence while developing new skills.