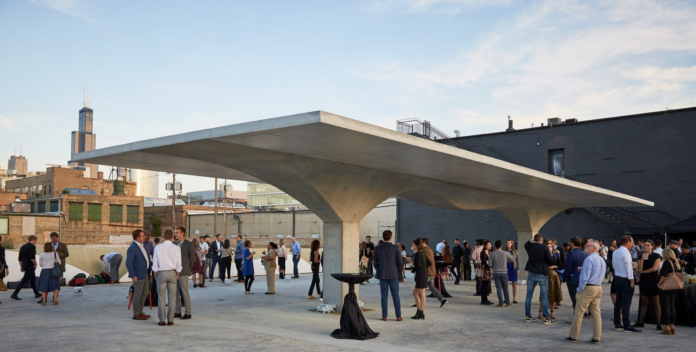 Two concrete columns hold up a curving concrete roof of this pavilion that architecture firm SOM (a collective of architects, designers, engineers, and planners working together to build a better future) has built using a method it says could reduce the carbon footprint of high-rise concrete buildings.
The concrete pavilion is a prototype of a single-storey concrete bay found in high-rise buildings. It is built using a robotic fabrication method, provided by Odico, that the American firm argues is more sustainable than traditional construction methods, and could reduce its carbon footprint.
Experts and activists have recently called to ditch concrete in a bid to fight climate change, with the method accounting for eight per cent of the total global carbon dioxide emissions.
SOM's project, however, aims to drastically reduce the carbon footprint of concrete, without making huge changes to construction methods. It focuses on the construction of a slab for high-rise buildings, which the firm found contributed to as much as 40 to 60 per cent of its carbon footprint.
"The design of Stereoform Slab expresses a more intelligent allocation of material, evocative of forms in nature," Duncan added. "When applied to the entirety of the built environment, this technology can pave the way to a more expressive, sustainable, and innovative future of architecture." SOM added that the process is similar enough to current methods to be implemented easily.
Analysis
Using this kind of technology, the thickness and use of material can be lowered drastically. This "stereoform slab" is made with just 6 inches of concrete on the top, solely because of the way the "smart band beam" is made. The curvature and tapering of the form makes it strong and the way the rebar is laid out makes it possible to use at least 20% less concrete than would normally be needed. The form and shape of this product is interesting and can be manipulated in my project. Using the techniques and similar shapes as this slab, I could make something really unique while also using less material.
https://www.dezeen.com/2019/09/25/som-concrete-stereoform-slab-2019-chicago-architecture-biennial/