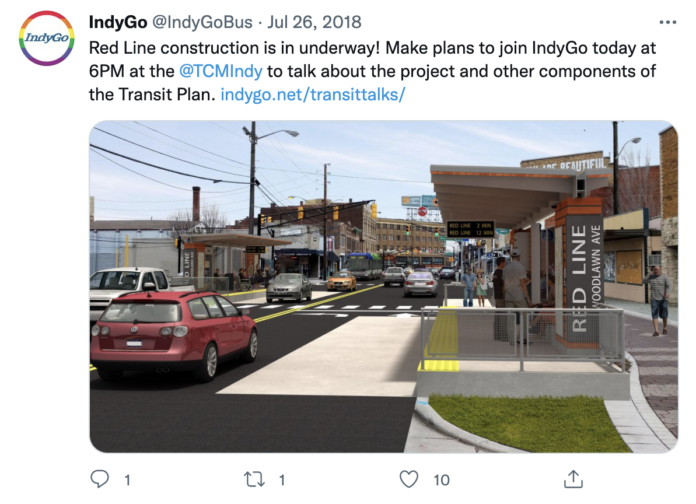 None of the following cities have devised the perfect transit system—and some of these ideas haven't even been realized yet—but, taken together, they show different means to make transit more effective.
Detroit: Multimodal Ambitions in the Motor City
Detroit's revitalization has strained a transit system that's historically been underfunded and ignored. But a new vision for mobility in the city, while lacking the flash and sky-high price tag of other metro-area transit overhauls, promises more equitable, and eclectic, solutions.
Building on the backbone of an improved bus system—which includes new designs, stops, and a mobile app—the Strategic Plan for Transportation seeks to add more car- and bike-sharing, beautify streets and alleys, and focus on partnerships with other area transit agencies.
Indianapolis: Rapid electric bus line brings equity
Running a 13-mile path that travels within a quarter mile of roughly 150,000 jobs, Red Line bus service's north-south route presents an axis of opportunity. In addition, the all-electric bus rapid-transit line will run every 10 minutes for much of the day, offering frequent service on a dedicated lane for a fraction of the cost of light rail. Voters believed in the project enough to raise their income taxes to fund it, and plans to roll out two additional electric BRT lines are already in the works.
Gainesville, Florida: Pushing a driverless shuttle pilot
Many assume the real advancements in autonomous vehicles are only happening in places like Pittsburgh. But this Florida city has become one of a growing number of places experimenting with driverless, autonomous shuttles, small, usually electric vehicles, sometimes operating on fixed routes, with capacity for fewer than a dozen riders.
In partnership with the University of Florida and the mobility operator Transdev, Gainesville will run four different shuttles through downtown as part of a three-year pilot, all free of charge to residents. Larger cities, such as Detroit and Las Vegas, already have driverless shuttle trials and services of their own. But this trial, exploring the impact of smaller, circulator routes, shows that smart city innovation isn't a matter of a city's size.
Denver: Planning that puts pedestrians first
Created at the tail end of a two-year "Denveright" outreach program, the comprehensive series of plans, which address transportation, land use, parks, and trails, seeks to connect neighborhoods by the simplest and most sustainable way to get around: walking. According to the plan as proposed, by 2040, all 78 of the city's neighborhoods would have an environmentally friendly park within a 10-minute walk, and half of the homes within 60 of those neighborhoods would be within walking distance of transit, jobs, and retail.
In addition to focusing on walkable neighborhoods, the plan has concrete goals to reduce automobile use, cutting the share of commuters with solo car commutes to 50 percent and making sure three-quarters of residents live within a quarter-mile of reliable transit service.
Phoenix: Using autonomous vehicles to bring riders to public transit
Last month, Waymo announced it would be partnering with Phoenix's Valley Metro to offer first-mile/last-mile rides with its fleet of hybrid Chrysler Pacifica minivans. By bookending a bus trip with autonomous shuttles, this collaboration could make public transit more desirable and orderly, all while keeping riders out of the scorching Southwest sun. As study after study shows that services like Uber and Lyft only add to urban congestion, it's promising to see tech devoted to augmenting, not overtaking, existing investments in transit.
Analysis
This article highlighted some of the ways in which smaller cities are integrating new technologies into their current public transportation infrastructure. The original article listed even more cities, but the ones I've selected are the ones in which I see elements that I think would translate nicely to a project in Upper Arlington. It's nice to see how some smaller cities (comparable to Columbus) are transforming their public transportation models without having to completely overhaul them, which costs plenty of both time and money. These projects, while still substantial, give me some ideas for how to create a solution that is a bit more in the right scope for my senior thesis.