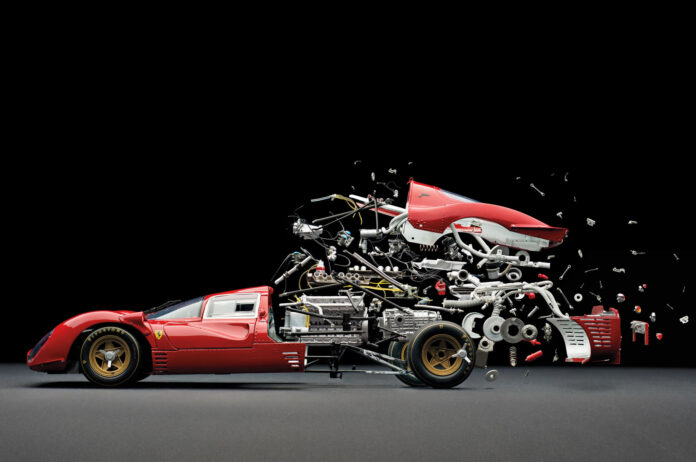 Art and the automobile have a longstanding relationship that's sometimes straightforward, sometimes abstract. Defining what art is will always be nebulous, but what we can do is distinguish between art and design.
"A designer sets out to solve a problem, and really good design is innovating new ways to solve that problem, but art is liberated from all that; it's not about utilitarian function. Art is about intention and communication." Artists use cars to communicate because automotive language is one we all understand, and the cult of car culture has long inspired artists to create thought-provoking pieces in many different media and styles. The sheer volume of great automotive art being made today is a body of proof that cars are more than appliances. They want to be driven, to be part of our lives. An old engine might not mean much on its own, but its soot tells the tale of a man's commitment to make life better for his family. Cars have stories to tell, and we appreciate the artists who are willing to listen. The best art forces us to look at some of our favorite cars in new ways.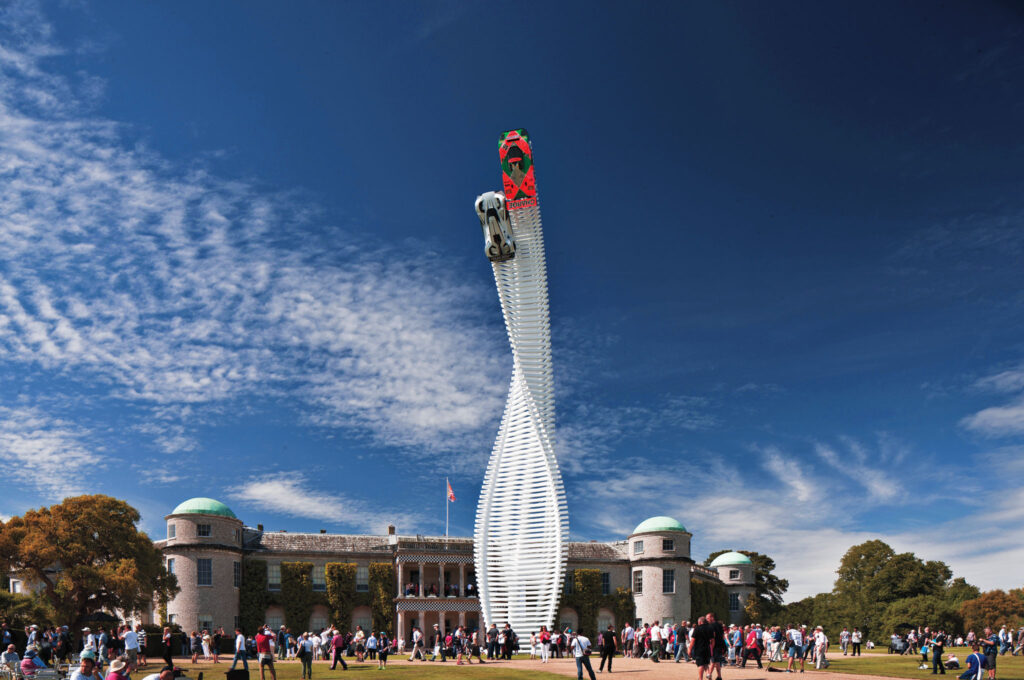 130-foot-tall double-helix sculpture for Mazda to show off at this year's Goodwood Festival of Speed representing the past and future of Mazda's motorsports and design heritage. Mitu (who paints under the sobriquet Aquarelief) used his morning coffee to draw the cars in his "Morning Coffee" watercolor series. His freshly emptied cup and brush, included in the presentation, are the tools of a passionate daily ritual. What started as a spill became a jolt of ingenuity. Fabian Oefner created the exploding images of classic sports cars in his "Disintegrating" series, Oefner deconstructed vintage scale models with obsessive precision. He snapped thousands of photographs of individual components that he then assembled in Photoshop to create a single image,. "There's an enjoyment in the analysis, discovering something by taking it apart," says Oefner.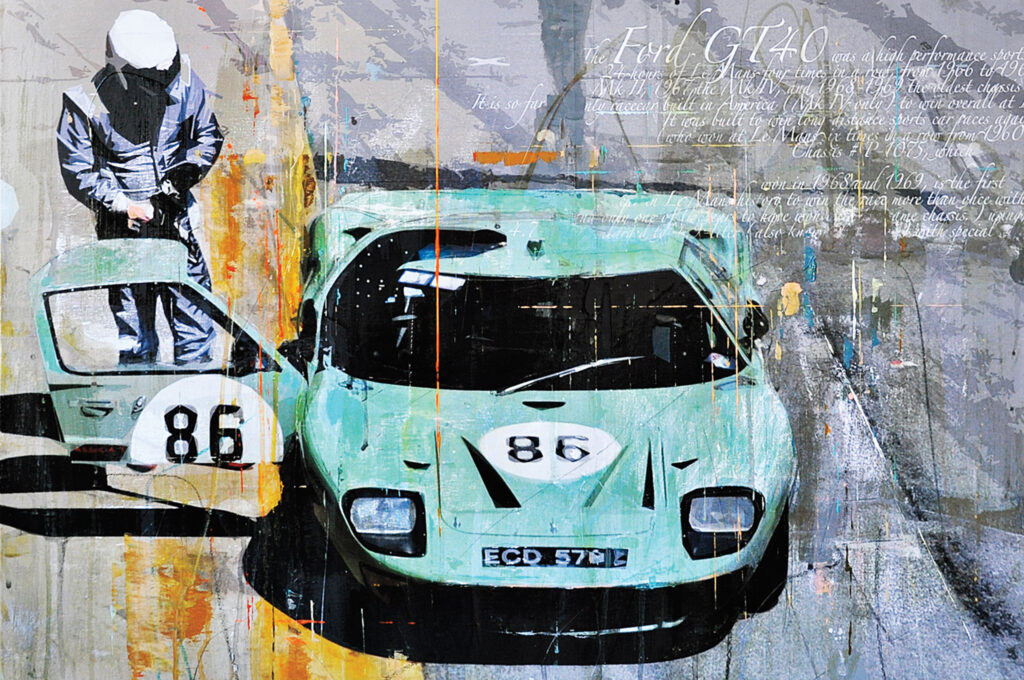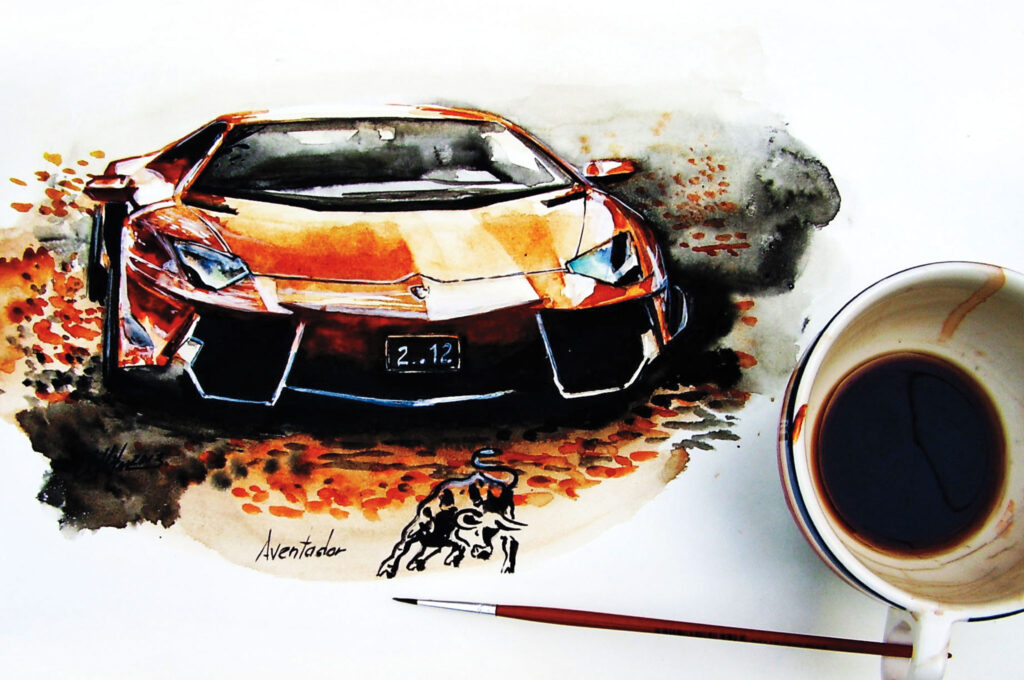 The automobile is part of our visual landscape, and many people are totally desensitized to its presence. If automotive art is all about using the language of cars to communicate, what happens when the original manufacturers have something to say? Companies often turn to artists to act as their voices and find new ways to connect with their audiences. Whether it's Charles Sheeler photographing Ford's industrial infrastructure in 1927 or Andy Warhol making prints of historic cars for Mercedes-Benz, people worry that involving a corporate entity renders art contrived and inorganic. Every car has a story and a history. Every car has an alter ego, and deep down they all want to be different. Most of today's cars are just boxes. Imagine a beautiful world where every car on the road is unique and has its own personality. The design somewhat dictates what the result is going to be. I have to be like a golfer, working around the course, maneuvering and finessing around the terrain of the car to make my best approach. Every car presents its own challenges.
ANALYSIS
In this article, the author talks about the deep relationship between the automobile design and art, and how the two affect one another, and better yet why they should. This article is beautifully put, it treats the car as its own being of sorts where it has its own story, influence and history that make it who it is, one that can even evoke deep emotions within us. This type of personification of the car makes it in some ways easier to think about designing for it. When I think about designing the passenger experience that revolves around the human experience, but when I look at the car from the perspective in the article, I can see ways to implement emotional, and deeper accepts to the over all design. As stated in the article, art allows for this, because design is a more ridged process and seeks a goal of solving a problem, while art seeks to communicate and evoke emotion. By using the mind of both a designer and artist, I think its possible to get closer to the best of both worlds within our designs.