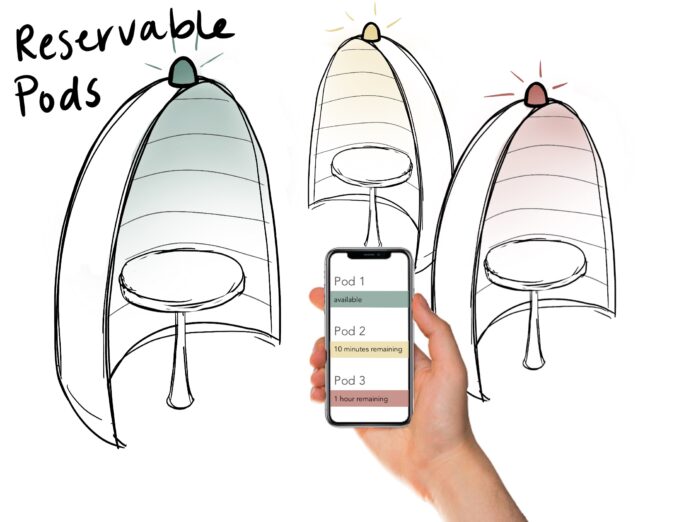 This design conjecture is the reservable office pod, designed for the urban, tech-savvy professional.
The design of this outdoor workspace touches on several important lessons learned from the business articles pulled. The first feature is the fact that it is a reservable workspace. Since this space is free, there is the potential for it to become crowded and busy; a prominent feature of this pod is how connection to smartphone technology would allow users to reserve time slots throughout the day, or know when a space is going to be available. With the surge of professionals using newer technology, the ability to use their smartphone to reserve a pod would be incredibly easy and efficient.
This same concept was seen in the business model of urban bike sharing or scooter usage, so it's possible to even consider brands combining and co-owning the space. This, of course, would have to work with the national parks organization as well, who owns the site. Attracting the active professional also supports the conjecture's standing desk design. Instead of sitting all day, the collaborative working space promotes standing and talking. Some studies promote the productivity of "walking and talking"; I believe a standing workspace is a good start for that.
Lastly, the idea of an urban workspace means that you will be exposed to the sounds of the concrete jungle. These pods provide sound absorption walls so professionals working within the space have the confidence to hear one another and also talk discreetly about business affairs. A co-working space would not be efficient if everyone was screaming at one another to hear over the traffic or whisper so another pod can't hear. The reservable pod is another unique space that hopefully the post-covid professional would be intrigued to use.