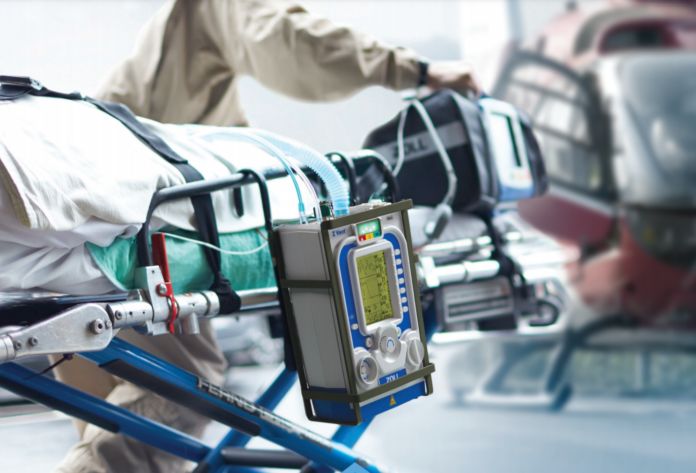 EASY TO USE – READY WHEN YOU ARE
Z Vent removes the complexity associated with many
portable ventilators. Our Smart Help™ technology
enables users to quickly resolve an alarm with simple
on-screen prompts, a feature only available on ZOLL
ventilators, while a Touch, Turn, and Confirm interface
makes changing settings quick and easy.
In non-invasive ventilation modes, Z Vent's Apnea
Backup feature automatically ventilates patients when
spontaneous breathing ceases, while Automatic Leak
Compensation adjusts oxygen flow if a mask is ill-fitting.

PORTABLE – GOES ANYWHERE YOU GO
Weighing just 9.7 pounds (4.4 kg), Z Vent is light and
easy to carry. Its internal compressor consumes less than
half of the oxygen of many transport ventilators.1
And with
a 10-hour battery, Z Vent ensures you can continue to
provide care, even during long transports.

RUGGED – BEYOND MILITARY STANDARDS
Designed to surpass high military standards, Z Vent
is resistant to dust, dirt, jetting water, and challenging
weather elements. It has a temperature range of –13° F
to 120° F (–25° to +49° C) and is proven to withstand
a drop from over 1 meter, which allows it to operate
at conditions that many hospital or home ventilators are
not rated to endure.

HIGH-QUALITY VENTILATION
IN THE MRI SUITE
Many transport ventilators are not designed for use
in the MRI. With Z Vent, you can continue to provide
high-quality ventilation from the ICU to the MRI Suite
without sacrificing your level of treatment to the patient.
Summary:
Currently there is an issue with unplugging and replugging back in patients causing high risk of infection. With an all-in-one ventilator this device can travel throughout the hospital with the patient without causing higher risk of infection. Ventilators are normally very large machines that are unable to go with the patient or into different machines. This smaller version will clip onto the bedside and help with space issues as well. The only thing this version may not have all of the features that a larger machine has but if they are lighter and cheaper than more people are able to access ventilators to save their life.