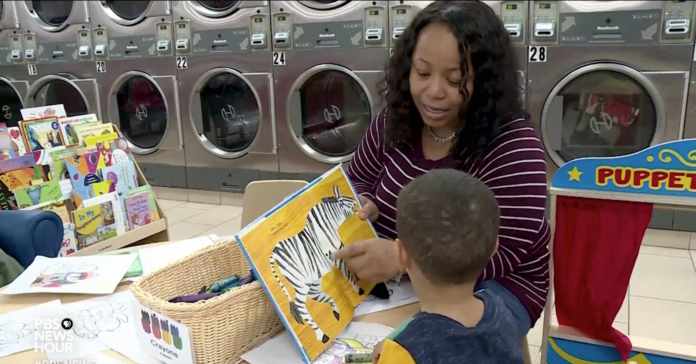 By: Lisa Stark
Published by PBS News Hour
Apr. 2, 2019
The first five years of a child's life are critical for language exposure, but studies suggest children in lower-income families often don't experience the rich literary environment wealthier kids do. A New York City initiative trying to close that gap encourages reading in a spot families visit every week — but don't usually consider educational. Special correspondent Lisa Stark reports.
Video Link: https://www.pbs.org/newshour/show/when-a-laundromat-becomes-a-library
Video Transcript
Judy Woodruff: The first five years of a child's life are a critical time for exposing children to language, words and reading. But studies have shown children in lower-income families often don't get the same rich literary environment that higher-income children do.Now some groups are trying to help close that gap in unusual places, including an effort in New York City where parents and children go every week, the laundromat.Special correspondent Lisa Stark of our partner Education Week has our story for our regular education segment, Making the Grade.
Lisa Stark: It's the weekend rush at a neighborhood laundromat in the Brownsville section of Brooklyn. There's washing and drying, folding, and reading?
Samantha Owen: Oh, no. Pete stepped in a large pile of blueberries.
Lisa Stark: For a couple of hours on this Sunday afternoon, adults are sorting clothes, and librarian Samantha Owen has scooped up their children for story time.
Samantha Owen: Where is she putting up the paint. Up high.I really want the kids to have fun and be really engaged with story time.
Lisa Stark: The ultimate goal is to jump-start the reading and language skills of children in this neighborhood, where a third of families with young children live in poverty.So why not try to reach them here, where families congregate, says NYU's Susan Neuman, an expert in early literacy?
Susan Neuman: These children are fundamentally ready to learn and excited about learning.But if you look at their communities, in many cases, what we have designated as book deserts, in other words, they don't have the access to materials and books that are absolutely essential for early reading and vocabulary development.
Lisa Stark: But can this make a difference? That's what Neuman is trying to figure out.
Woman: What color is he?
Child: Blue.
Woman: Very good.
Lisa Stark: This program is not the only one bringing books to laundromats. There have been efforts in more than two dozen cities. But this is the first formal study to measure what happens when you turn a space like this into a space like this.Researchers are observing at three New York City laundromats, story areas added last July in Brooklyn, the Bronx, and Queens, comparing them to laundromats that are just laundromats.
Susan Neuman: And so what we noticed is, essentially, there is no literacy activity in control sites, none, I mean, virtually none. But in our literacy-related play center, over a period of six weeks, we saw 150 different literacy-related events. It was a dramatic change.
Lisa Stark: This is part of a broader attempt to promote literacy in ordinary locations.Jane Park Woo is with the Clinton Foundation's Too Small to Fail Initiative.
Jane Park Woo: Well, we want it to meet families where they are, in the everyday places they go with their children.And we know that the majority of their time is spent out of school in many of these informal environments. So we know they're going to the grocery store, they're going to their local church, they're going to the laundromat.
Lisa Stark: Too Small to Fail is a partner in the New York endeavor.
Woman: What's that?
Child: Apple.
Lisa Stark: So is the laundromat industry.
Brian Wallace: Number one, we have got the right audience. There are the families and caregivers, parents and kids who need the most help when it comes to literacy and access to books.
Lisa Stark: Brian Wallace oversees the Coin Laundry Association and its foundation, whose members own 5,000 laundromats, one in every six nationwide.
Brian Wallace: You know, folks are here for an hour-and-a-half or two hours. So there's time to add those interactions. And there's also a recurring element. Chances are the folks that are here this Saturday morning will be here next Saturday morning and the Saturday morning after.
Lisa Stark: Wallace recruited owners such as Jose Almonte to sign on.
Jose Almonte: It's good for the parents. They bring the kids. The kids will — instead of be running around, they will be reading, playing. They spend good quality time.
Lisa Stark: This effort in laundromats began with simple signs, urging parents to read, sing and talk to the their children. Then it evolved into these more elaborate reading centers.
Nory Morales: I was like, oh, my goodness, they put a little play area, reading area, and the kids can be entertained and they can build their social skills.
Lisa Stark: Nory Morales' 6-year-old son is a fan.
Nory Morales: That's definitely educational, because he's picturing something in his head, and he's bringing it out. He's using his words and he's building a whole story.
Lisa Stark: Researcher Mackenna Alvarez has been observing and interviewing families at the laundromats.
Mackenna Alvarez: Ultimately, we kind of saw that children and families who had access to a literacy area recognize so many more books. They were a lot more enthusiastic about reading.
Lisa Stark: One disappointing finding: Having just the reading area alone draws in children, but not many parents. So kids end up playing and reading by themselves.But with librarians added, about 30 percent of parents joined in at some time during story hour. Parent involvement is key, says Allister Chang, who oversaw Libraries Without Borders, also part of the New York effort.
Allister Chang: We are looking for behavioral shifts, because those are long-lasting, and those will follow these parents and these kids way beyond the laundromat.
Lisa Stark: Children with access to books and to adults who regularly read to them are more likely to be prepared for kindergarten and, like Ryan Molina (ph), reading fluently in third grade.
Child: "Another day has started. I stretch and yawn and shout."
Lisa Stark: How do you think you became such a good reader?
Child: Read.
Lisa Stark: You read?
Child: Yes.
Lisa Stark: Studies suggest students who read well by the end of third grade are more likely to succeed in high school and in their careers.Lillian Pierce Hunt, who encourages her grandson to read, welcomes efforts like this.
Lillian Pierce Hunt: And this area that the percentage is low, in reading and math, so anything to help bring those scores up.
Woman: What letter is that?
Child: A?
Lillian Pierce Hunt: It starts with stuff like this, where parents spend time, and they're busy, and it's not that you don't want to read to your kids. You just don't have the time.
Lisa Stark: The hope is to expand literacy areas to thousands of laundromats nationwide.But this program is not without its challenges. Children may still find the washing machines more interesting, and parents may still be too busy to pay attention to story time by the dryer. There's also the cost, about $2,300 for this test version.
Woman: What's behind the snowman?
Lisa Stark: And the ongoing need for librarians, new books and supplies. But library manager Corey Rodriguez believes it is worth the effort.
Corey Rodriguez: It's very hard sometimes to explain how great it is, and how we feel that it's definitely a positive experience. Even if we read to a child for five minutes, 10 minutes, 15 minutes, they are walking away with something.
Woman: Oh, look, strawberries.
Lisa Stark: One book at a time.For Education Week and the "PBS NewsHour," I'm Lisa Stark in New York City.
Source: https://www.pbs.org/newshour/show/when-a-laundromat-becomes-a-library
Comment: This intervention of placing reading areas in laundromats is really interesting because the laundromat is a space kids likely visit regularly and for an hour or two at a time. This gives the kids a long time to be able to engage with the reading area as well as revisiting it by coming back week after week. It seems like a successful way to give children in the area access to books. I think this specific intervention focuses on bringing literacy to people conveniently and at no cost to them. And when the librarians are there to read to children and oversee the area, there is potential for even more interaction. I think this is the most unique or intervention I have seen so far. The one challenge of it they talk about is to not only get the kids involved, but find ways to get parents involved too.