The idea of bringing a community together around their child's educations is always important, but I see it as especially important in the context of COVID-19. When we are physically apart, it can be harder to stay connected and engaged in school and learning. Parents need support and from teachers in order to effectively help teach their children and enhance their development. People need emotional support and a reminder that they're not alone. A lot of this is being done informally over Facebook groups, etc. but how might it look if it were a joint and organized community effort centered around the school? Would it be able to provide support to those who wouldn't otherwise feel supported?
How might the model of the Harlem's Children Zone work in an online environment?
—
"Harlem Children's Zone, Inc. Growth Plan." https://www.bridgespan.org/bridgespan/Images/articles/harlem-childrens-zone-business-plan/HCZ-Business-plan-April-02.pdf
"At the start of its fourth decade, Harlem Children's Zone, Inc. (formerly Rheedlen) has become a national standard-bearer for this simple but far-reaching idea: It is difficult, often impossible, to raise healthy children in a disintegrated community. Without local institutions that draw families and young people together around common interests and activities — religious, social, and recreational organizations, effective schools, safe and well-used public spaces — even the most heroic child-rearing is likely to fail.
"Conversely, by gathering and organizing members of the community around activities of
common interest — particularly the healthy development of children — even the most
devastating conditions can be reversed. Harlem Children's Zone's mission is to concentrate that kind of activity on well-being of children in Central Harlem, where poverty and unemployment are many times higher than national averages, education and student achievement fall well below U.S. and New York City levels, and the rate of foster care placement is the highest in the state.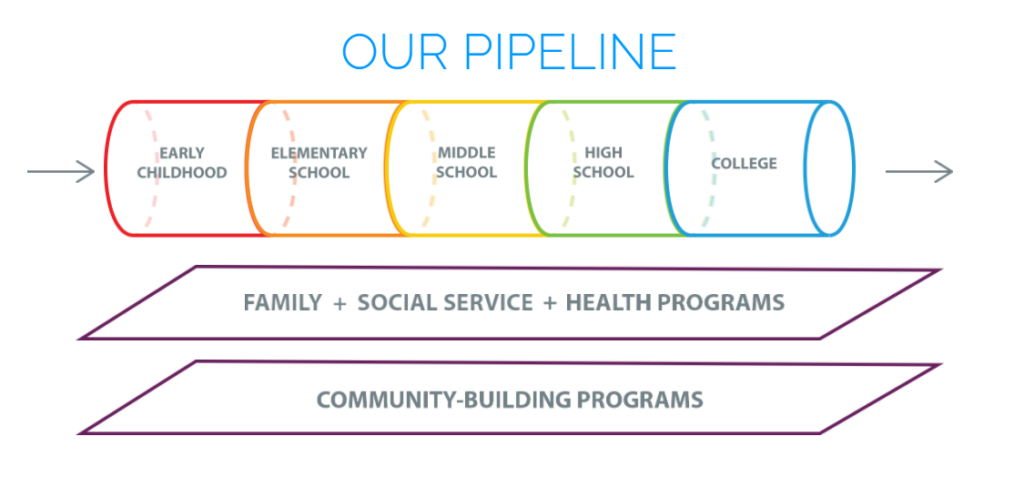 "Behind this mission lie two main tenets: First, children from troubled communities are far more likely to grow to healthy, satisfying adulthood (and to help build a better community) if a critical mass of the adults around them are well versed in the techniques of effective parenting, and are engaged in local educational, social, and religious activities with their children.
"Second, the earlier a child is touched by sound health care, intellectual and social stimulation, and consistent guidance from loving, attentive adults, the more likely that child will be to grow into a responsible and fulfilled member of the community. Intervention at later stages is still important — and must be adjusted as the person progresses through the various stages of youth. But later intervention is more costly and less sure of success. Families will need these later efforts to a lesser degree and in declining amounts if the earliest intervention is effective.
"These twin principles — a critical mass of engaged, effective families, and early and progressive intervention in children's development — have led Harlem Children's Zone in recent years to concentrate more of its activities on the families in a 24-block region of Central Harlem called the Harlem Children's Zone Project."