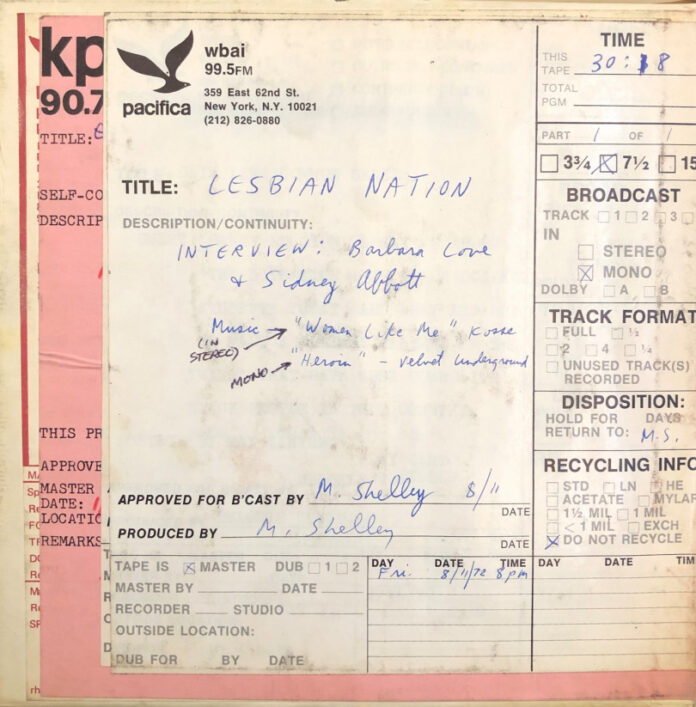 During the rise of the LGBTQ+ rights movement in the 1970s and '80s, visibility and community were crucial, and some leaders took to radio and television to elevate their voices and showcase culture. This spring semester, Pratt Institute School of Information students in Projects in Digital Archives digitized, catalogued, and curated online material from two of these programs: the Gay Morning America (GMA) public-access TV program (1984-85) and the Lesbian Nation radio program (1972-73). Recorded on now-obsolete media and fragile after being boxed away for decades, digitization prevented these programs from being lost forever.
Airing weekly from 1984 to 1985, GMA brought the gay culture of New York City—particularly Greenwich Village—to public-access television. Although its run was brief, it's an important record of LGBTQ life in the city, especially as it aired at the beginning of the AIDS epidemic. The show was started, produced, and hosted by George Sardi and Johnny Savoy, who were regulars at many of the local spots that advertised on the show. (As part of the digitization project, these venues were mapped, showing how some have vanished during gentrification and others have survived.) Recurring segments included cocktail mixing with bartender Johnny Pool, fitness with Lord Byron Folk, theater reviews with Leslie Irons, sports with Johnny Fitzpatrick, lesbian issues with Lynn Lavner, musical performances, and recordings of special events like Ms. Fire Island 1985.
"The tapes offer snapshots of life in New York City at a time when being out was not as easy or accepted, and even more so, challenged by the ongoing AIDS crisis," said Vanessa Castaldo, MSLIS '22. "The historical value of these tapes range from notable local figures to the various resources advertised as supporting organizations for the local community. I felt that documenting them was very important and part of a larger picture of how the community functioned and sustained itself."
TheLesbian Nation tapes site created by Pratt students for the Lesbian Herstory Archives has the digitized recordings as well as biographical information about the interviewees. Although the collection is only part of Lesbian Nation's extensive broadcast series, the diversity of voices reflected in the digitized materials shows how vital the work is for an inclusive understanding of queer history.
"I think that it's hard to overstate how valuable these collections are," Indick said. "As a queer person myself, I am fascinated by the history of the LGBTQ+ community and it is so wonderful and important to be able to see and learn from our queer elders. And at a time when the Trump administration is attacking and erasing LGBTQ+ people in the United States, it is incredibly valuable for us to be able to have concrete proof that we lived and thrived a half-century ago."
Before these projects, Gay Morning America and Lesbian Nation had a scarce digital footprint, as did many of the people who created and appeared on these programs. As Pratt students continue to digitize this history, their memory is strengthened and assures that their pioneering work in LGBTQ+ visibility will be preserved.
Analysis:
I am unfamiliar with archive work, so this story on Pratt's website sparked a lot of inspiration for me to think about how a huge part of reclaiming The Short North could involve archiving and celebrating the stories of people, projects, and businesses that used to be there before us. The archival process could also take on a non-digital form, like a community library or "museum" type space that allows visitors to research and study physical artifacts.