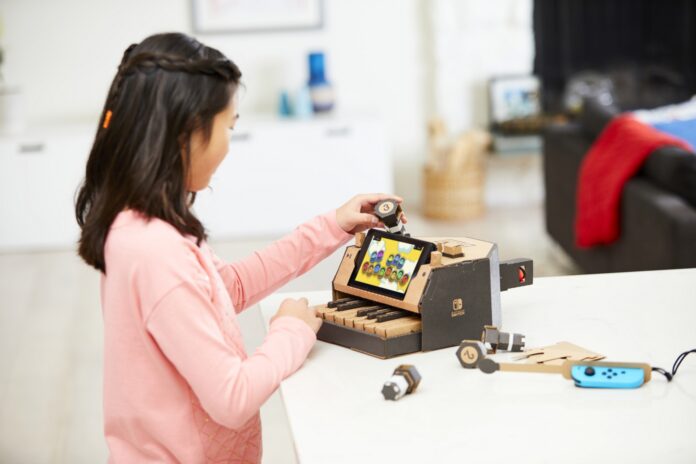 It's January, which means gear announcements every day up to the annual NAMM show, when all the new synths and instruments get shown off to the public. Already this year we've had a modular case from Arturia, a tiny mixer from Korg and Moog's awesome new drum synth. Are any of them as exciting than this cardboard piano Nintendo is releasing? No.
Described by the Japanese video game innovators as a range of "interactive build-and-play experiences" Nintendo Labo is the first major add-on to the Switch console, whose modular design allows it to be played on the TV or used as a handheld. You couldn't even really call Labo a video game – it's more a set of flat-pack cardboard toys that use the Switch's components to power them.
. . . the most impressive of all the Toy-Cons is the miniature cardboard piano. You have to construct the whole thing by folding up cardboard pieces, including the keys. Then you slot the Joy-Cons in the side, and the screen generates the sound when you press the keys.
According to The Verge, the Joy-Con's infra-red camera can see the keys and detect which ones are being pressed. This information is relayed back to the Switch screen, which mirrors the keys being played. It even comes with separate knobs that can modify the sound, which we hope means that it'll function more like a synth than a piano.
The Switch has upended what people expect from a video games console, and now it looks as if Labo is going to be instrumental in getting kids (and grown-ups) into making music as well. So, while we're eager to get our hands on Moog's DFAM, Korg's Prologue and whatever else gets announced ahead of NAMM this month, Nintendo's cardboard piano has the potential to be bigger than all of them.
---
ANALYSIS
NAMM is a conference held every year for tech companies to display new concepts and means of musical expression. To even compare a toy from a gaming company to the sophistication and reputation of companies like Moog means something. It is evident that Nintendo's Labo product offers an experience so new and refreshing that is captivating to the musical world, that even amidst the flurry of polished and intricate musical equipment musicians want to experience what it offers.
Something that specifically intrigues me about the switch is how it uses the Joy-Con's IR cameras to read which key is being pressed.  It shows how sophisticated our technology is becoming and at what scale it can be implemented; into a children's video game controller.  The function of this that I am most interested in however, is its capability to read a cardboard cutout and generate a sine wave based on the grooves of the cardboard cut.  This is something that opens the floor for musical discovery and education that has never been articulated by even the most robust music equipment at NAMM.  Nintendo does this while providing a means of reusing cardboard, which presents sustainable opportunities as well.