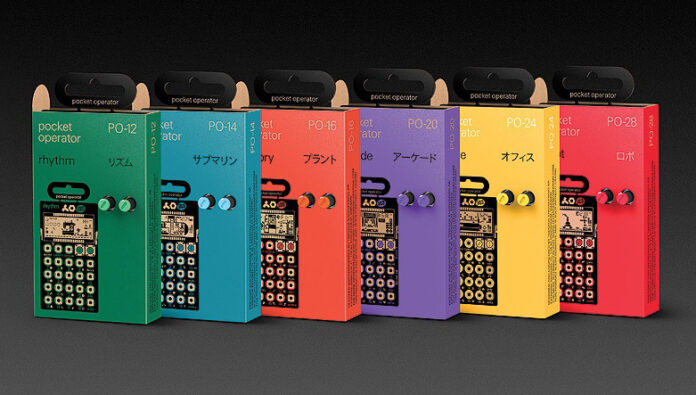 Teenage Engineering is a Swedish synth manufacturer that made its debut in 2011 with the OP-1. Since then, they've expanded on their catalogue with a line of handheld devices called Pocket Operator. These micro synths and drum machines may look like toys, but they pack a mighty punch.
Beats, bleeps and bloops in a compact handheld device. Teenage Engineering has put portable music-making in the palm of your hand with the Pocket Operator.
Pocket Operators were introduced at a time where mobile music technology and portable device culture are at the forefront of user experience.
PO's act as almost the counterbalance to this – perfect for those who enjoy music-making on the move yet want to retain the authenticity and hands-on approach to sound creation.
The design philosophy? Instant fun, straight out of the box. With attention to detail and an original vision, this manufacturer sought (and continues to seek) to change the way consumers perceive and interact with musical instruments and synthesizers.
The devices are designed to be used in tandem with one another in a similar way to Eurorack modules. Each with a different purpose, a different set of voices and varying characteristics.
Take the PO-35 Speak for example. It hosts an incredible sample engine that can record on demand via an internal microphone or via a 35mm jack. Once audio has been recorded, Speak automatically quantizes and adjusts transients to each 'step' or 'pad'. Users are then able to warp the sound source via the 16 onboard effects and create remarkable beats or soundscapes.
To call it a 'toy' is somewhat underselling its potential, but they are just as fun.
Each PO features 3.5mm input and output jacks, which function as audio ins and outs but are also used for syncing the POs. Multiple units can be synced, passing audio on one channel of the stereo in/out and sync messages on the other, which allows the whole range of POs to function as one large instrument with a single audio output.
---
ANALYSIS

Teenage Engineering's designers are making musical instruments as approachable as a toy. Something accessible and unintimidating, that is meant to be used at the leisure of your imagination, for the purpose of personal enjoyment.
By making the Pocket Operator portable and battery powered, it removes the excuse of having to be at home or in a studio to create music, allowing it to permeate other areas and become more familiar to a user who may not be accustomed to music-making already. This mirrors a desire among some musicians to expand the studio space beyond a single room, making the recording space more accessible to a larger audience.
The compatible nature of the operators stirs a narrative of collaboration and sharing the music-making experience with others. It creates a trading card-esque experience; people can buy a unique operator and then be empowered to connect with others who have alternative versions to share the benefits of each.