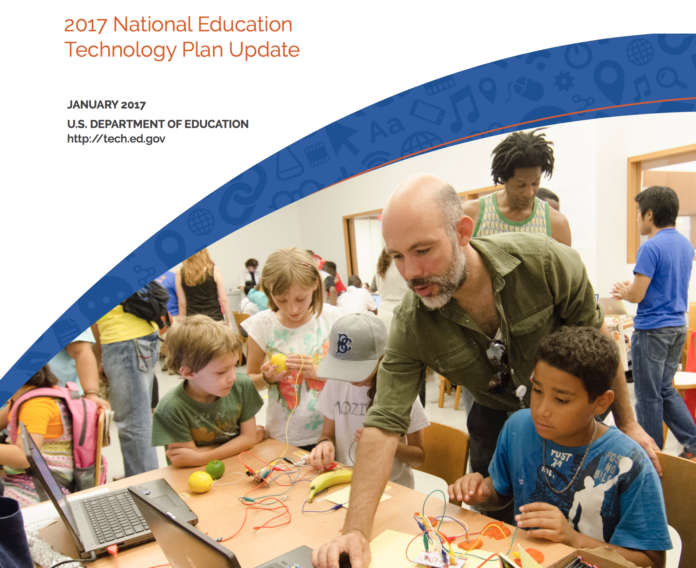 2017 National Education Technology Plan Update
One of the most important aspects of technology in education is its ability to level the field of opportunity for students.
—John King, U.S. Secretary of Education
Technology can be a powerful tool for transforming learning. It can help a affirm and advance relationships between educators and students, reinvent our approaches to learning and collaboration, shrink long-standing equity and accessibility gaps, and adapt learning experiences to meet the needs of all learners.
Our schools, community colleges, adult learning centers and universities should be incubators of exploration and invention. Educators should be collaborators in learning, seeking newknowledge and constantly acquiring new skills alongside their students. Education leaders should set a vision for creating learning experiences that provide the right tools and supports for all learners to thrive.
However, to realize fully the benefits of technology in our education system and provide authentic learning experiences, educators need to use technology effectively in their practice. Furthermore, education stakeholders should commit to working together to use technology to improve American education. These stakeholders include leaders; teachers, faculty, and other educators; researchers; policymakers; funders; technology developers; community members and organizations; and learners and their families.
Analysis:
As far as articles go, I feel that an official document from the U.S. Department of Education is vital in understanding the our country's perspective on incorporating technology into education and giving me a thorough look into the world I am trying to design for. That's why I appreciated finding this resource. It outlines the National Education Technology Plan (NETP), which sets a national vision and plan for learning enabled by technology through building on the work of leading educators. The NETP focuses on using technology to transform learning experiences with the goal of providing greater equity and accessibility. While the plan dates back to 2017 and doesn't apply to COVID-19 conditions and drawbacks, I intend to use this as a valuable resource in understanding technology in American education. I included a snippet of the introduction here.