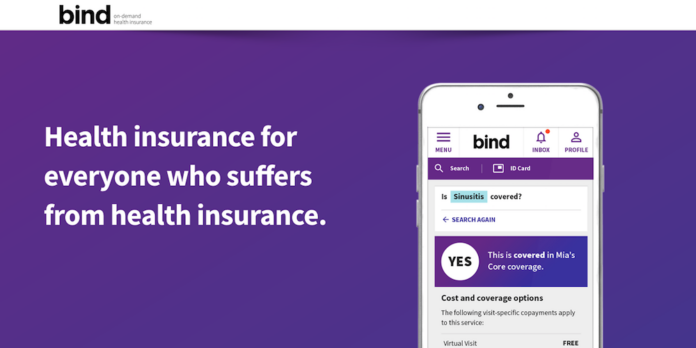 Many of us have shown up to the doctor for what we think is a simple visit, only to end up with several bills down the line. Bind, On Demand Health Insurance is working to help patients know the cost and value of their care before they walk in the door. Started in Minneapolis in 2016, Bind is a national health plan with members in all 50 states. The Pulse sat down with Chief Clinical Strategy Officer Tara Bishop to learn more.
Bind is a new health plan that helps people understand how much something will cost them before walking in the door of their doctor's office.
The goal of Bind is to shift mindset in health care from doctors, hospitals and drugs to a new way of thinking. We start with the condition a person is dealing with or a health goal they want to achieve. We identify the options a person can consider for that condition or health goal and show how the Bind plan covers those options, including a clear, upfront treatment cost for each choice. Those costs are based on consumer value, so with Bind, members pay less when they choose treatments and health care providers that are more likely to help them effectively and affordably.
Most people think when they walk into a doctor's office they will have a conversation, the doctor might do an EKG or swab their throat for strep, and then send them on their way. But then somewhere down the line they end up with two, three, four bills because that EKG was sent to a remote cardiologist who they didn't know was going to read it. Most people think of that one visit to the doctor as a single encounter without realizing there are all these ancillary services happening around the visit. That's one of the key things we are solving—trying to understand what the actual encounter someone is going in for is, what the expected services around that encounter are, what the bills associated with those services are, and how we can assign a copay for that entire encounter instead of for each individual service. So we do design things like mini-bundles around services, use data science to predict the costs, and then tie a copay to those things at a patient-friendly level.
We live in a day and age where you can know the cost of anything before you make a purchase decision—except health insurance or a health procedure. This idea of enabling people to have a clear understanding of what things will cost them before they walk in the door—and that coverage begins immediately—are a few key features of Bind and what we think of as on-demand health insurance.
---
This article is interesting to me because it addresses the effects health insurance and medical costs have on the accessibility of receiving proper healthcare. In the US, healthcare is both privatized and public. Further, every person has a different plan, causing costs of care to be so variable that often people are unaware of the cost of care until after a visit, procedure,medication,or consultation. As a result, health costs can easily become the leading factor in people's debt.
Accessibility and education are two common themes that keep reappearing within healthcare, and specifically hypertension. Without a clear understanding of the cost of a blood pressure checkup or a clear understanding of the effects of hypertension, encouraging people to monitor their blood pressure becomes very difficult. However, if there is a clear cost to annual check-ups, blood tests, and medication, alongside how important monitoring hypertension is, people will feel much more inclined to track their own.