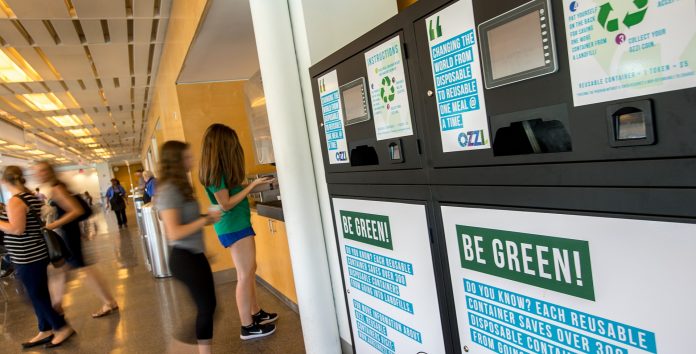 OZZI — an innovative new system that lends students reusable plastic food containers — is now being piloted at the North Dining Hall Marketplace.
Allison Mihalich, senior program director of the Office of Sustainability, said the department partnered with Campus Dining to bring OZZI to Notre Dame.
"We're really excited to bring [OZZI] to the North Dining Hall Marketplace," she said. "It essentially looks like a vending machine kiosk that dispenses reusable to-go containers."
Anna Mason | The Observer
The OZZI system, located in North Dining Hall, dispenses reusable plastic containers for student use.
The system helps to cut back on single-use plastics and other wasteful food packaging, Mihalich said.
"By bringing this system to North Dining Hall Marketplace — where there's a lot of individually wrapped sandwiches and bagged items or just really any individually packaged items — we're able to reduce that packaging and have the OZZI containers available for either premade meals or for folks to grab items quickly, not requiring all that individual packaging that's essential for food safety," she said.
Senior Meredith Soward, who researched reducing disposable plastics last spring, said the system is not only more environmentally sustainable, but also offers health benefits.
"Consuming food in a [single-use] plastic container — especially if you reheat that plastic container — can leech harmful toxins into your food that you are then consuming and putting into your body," she said.
Soward said the convenience the system offers will make it attractive to students.
"One of the massive benefits is that it requires pretty much no work on the part of the student," she said. "You don't have to clean it yourself, you don't have to do anything but return it back to the vending machine, and then it would be taken by Campus Dining and fully sanitized, so when you came to get another one, you would still have a clean one."
The University of Southern Indiana, among other colleges and universities, has already implemented the OZZI system successfully, she added.
"[The system] had paid itself back pretty quickly," Soward said.
Soward said several other locations on campus would benefit from an OZZI system, especially the Duncan Student Center.
"[In the Duncan Student Center] there are three eateries, all of which depend exclusively on plastic," she said.
She hopes the system promotes a greater sense of environmental conscientiousness at Notre Dame, she added.
Analysis:
The Ozzi System has been adopted by many campuses across the country, and provides a compelling solution to dining-ware waste. At $26,000 a machine, though, I wonder if the basic principle of Ozzi could be re-thought to be less expensive and more expansive, and to provide a greater number of lower-tech drop-off points. This convenience element would be particularly beneficial to a campus as large as OSU.