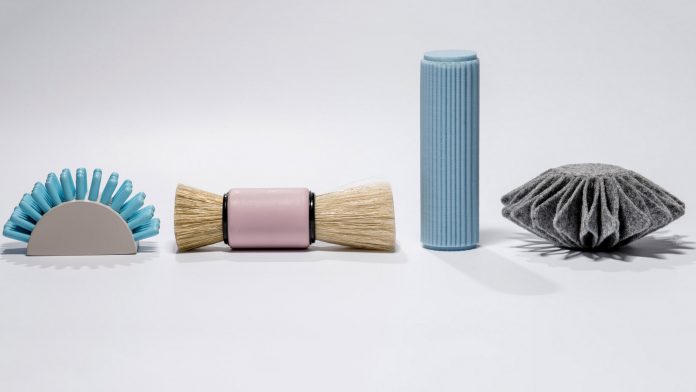 By Gunseli Yalcinkaya, Dezeen, 15 October 2018 https://www.dezeen.com/2018/10/15/paula-lorence-tactile-objects-children-autism-london-design-festival/
Riga School of Design and Art graduate Paula Lorence has created a series of objects to help children with autism spectrum disorders with their sensory development.
The Taktil collection features 12 objects made from eight types of materials that are designed to produce different tactile sensations when touched by children.
"Tactile objects are used during therapy sessions by therapists who are working with autistic children," Lorence told Dezeen.
"Tactile sensory stimulation involves the sensation of touch and texture. This method helps children focus, overcome sensory sensitivities and soothes anxiety," she explained.
Lorence separated the objects into three levels. The first level is for children who are particularly sensitive, the second is for children who are more developed and can manage stronger tactile stimulation, the third level objects are used in situations when children have anxiety or panic attacks.
The objects are made from a variety of materials, including silicone, wood, transparent plastic, aluminium, cork, bristle, felt and composite material silkstone. Each product is meant to produce a different tactile sensation.
The project aims to provide tools that can help children on the autistic spectrum achieve higher levels of concentration and reduce stress in their everyday lives.
"The objects that are normally available to buy are very generalised and many children who have autism can't use them. These observations inspired me to attempt to develop a set of objects that would be specifically designed for children with autism," she explained.
This article shows how most products are not designed for children with autism. One designer found an opportunity to design a set of products to help children with autism with sensory development.