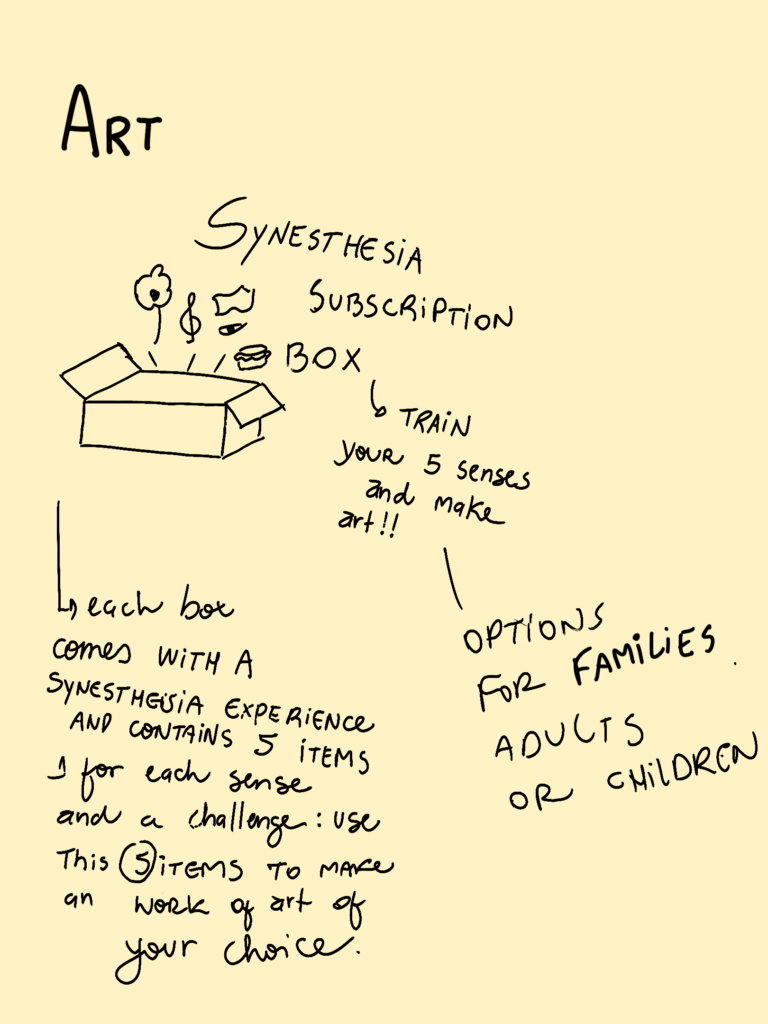 For this conjecture, I imagined a service of subscription boxes that bring you random items for you to play with your creativity and use your 5 senses at once or have combinations of them. The service would offer 3 types of boxes: family-focused, adult-focused, or children-focused. Each month you would have a surprise at your door and materials to make your mind and five senses work out. It would include food, songs, sounds, ink, paper, plants, fabric, paper, and so on. No prompts, no instructions, just some charades, and provocations. This box would help people take some time for themselves, practice mindfulness, and have some fun with their own company or friends'/family's company. Crafting and being aware of their sense and also their ability to create something out of random stuff could help them feel more secure about their creativity once there is no wrong answer.
Critique
Are these materials selected randomly?
Is it going to produce useless leftovers?
Will The overcomes of each project go directly to the trash bin?
Mixing food, scents and chemical products like ink doesn't sound really safe. Food for sure would have to be ultra-processed.
How will they feel more confident about their own creations? There is nothing that would measure it, and maybe too much freedom is not the right way to do it
Regarding mindfulness, it could be something good, but also having hobbies or meditating. Why is this better than the other options?