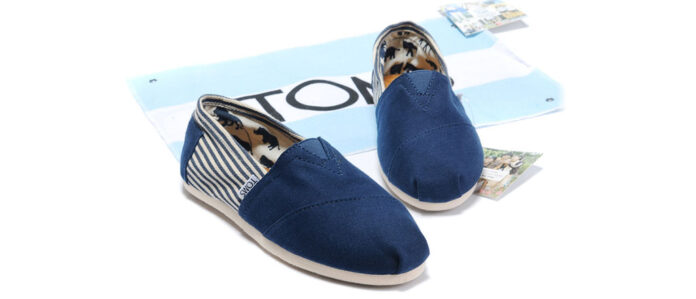 Companies that make everything from shoes to eyeglasses have implemented the so-called one-for-one business model — meaning for each product that is sold, someone in need gets a donation. Does that help or hurt the intended beneficiaries?
In 2006, Andreas Widmer and his Seven Fund, a social equity venture fund, awarded Toms Shoes a prize as a model for an innovative enterprise solution to poverty. The award was given, in part, because of the company's implementation of the so-called one-for-one business model, which means that for every pair of shoes that a customer bought from Toms Shoes, the company would give away a free pair to someone who needed shoes.
"We were impressed by Toms Shoes' enthusiasm and their focus on entrepreneurship as a solution to poverty," said Widmer, now the director of entrepreneurship programs at Catholic University. A couple of years later, though, he had second thoughts about the one-for-one model. "The unintended consequence is that, of course, there is a local cobbler who actually makes shoes and sells them. Can you imagine what happened to that guy the day the truck showed up with Toms shoes? Why would you go buy something if you could get it for free? And then, to add to this complex situation, that truck doesn't show up all the time. That wreaks havoc on a lot of businesses, especially small and medium-sized ones."
Widmer believes that Blake Mycoskie, the founder of Toms Shoes, means well. But, Widmer is concerned that the one-for-one business model — and many of the companies that have adopted it — are unintentionally causing as much harm as good. "Mycoskie has a good heart. But, I have matured to see that following the heart to fight poverty is a terrible idea," Widmer notes. "It pleases you more than it helps anything. To give anything is always a bad idea when you're trying to fight poverty." (Toms Shoes' one-for-one model has evolved in recent years in part as a result of such concerns.)
Reflective Analysis
We know that people are most motivated to help when they feel a connection to those whom they're helping. There has been a lot of experimentation and development with these models, which is positive as it is not yet clear which methods are the most effective and long-lasting. Providing free resources, such as handouts, only serves as a temporary fix and does not address the underlying issues that lead to poverty. The root cause of poverty is not a lack of material possessions, but rather a lack of access to resources that can generate wealth, such as land ownership, legal systems, financial capital, and a functional economy. This journal made a significant change in my mindset, something which I already knew concretely but maybe I needed a time-tested method to get it ingrained into my thick skull.
Source
The one-for-one business model: Avoiding unintended consequences. Knowledge at Wharton. (2015). https://knowledge.wharton.upenn.edu/article/one-one-business-model-social-impact-avoiding-unintended-consequences/