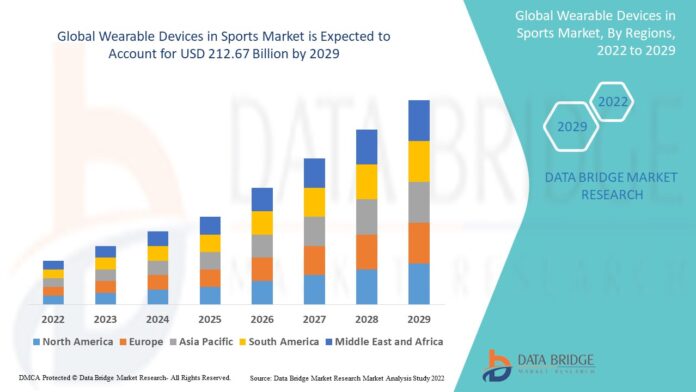 Sports-related wearable technology is a collection of diverse items intended to aid and support users. These wearable gadgets were created to assist athletes through technology. These wearable devices use IoT, Bluetooth, and Wi-Fi technology to offer data on an individual's overall performance. They aid athletes in measuring important health indicators including heart rate and stamina. These wearable gadgets have GPS trackers that collect data on the user's pace, heart rate, number of steps taken, number of calories burned, and other things. These tools sustain the user's training-related physical activity and guard against overtraining. These gadgets also monitor sleeping patterns and exercise routines.
"Rapidly increasing demands, a rise in industrialization, consumer awareness, growing sectors, and technical improvements are fueling the expansion of the global Wearable Devices in the Sports market."
Opportunities
Consumer awareness as a factor for the increased demand for wearable sports devices is super interesting to me. The article mentions opportunities for key players to be wearables that are health conscious. "Technology advancements like the smart watch, fitness tracker, and Bluetooth-enabled camera have opened up new business expansion opportunities."
Restraints/Challenges
The article goes into detail about some restraints and challenges in the wearables market. I was able to understand challenges like low battery life, high initial costs, product approvals, product launches and market size. Although I found it hard to grasp some of the restraints and challenges mentioned (ex: import-export analysis, analyses opportunities in terms of emerging revenue pockets, and application niches and dominance), it is still good to be aware of these things so I can find out what they mean at a later date.
The following is another are of the article I found that could be useful to my research.
Global Wearable Devices in Sports Market Scope
"The wearable devices in the sports market is segmented on the basis of component, product type, site, application, end user, and distribution channel." I highlighted below where I feel my AR tool would fall although I don't envision it to be wearable.
Component
Product Type
Pedometers
fitness and Heart Rate Monitors
Smart Fabrics
Smart Camera
Shot Trackers
Others
Site
Headband
Handheld
Arm and Wrist
Clip
Shoe Sensor
Others
Application
Step Counts
Calorie Burnt
Heart Rate Monitoring
Sleep Tracking
Others
End User
Sports Centers
Fitness Centers
Homecare Settings
Others
Distribution Channel
Independent Retail Store
Hypermarket/Supermarket
Brand Store
Online Sale Channel
Data Bridge Market Research. Wearable Devices in Sports Market to Experience Substantial Growth of USD 212.67 Billion and is expected to Undergo a CAGR of 13.01 By 2029. Data Bridge, 2022