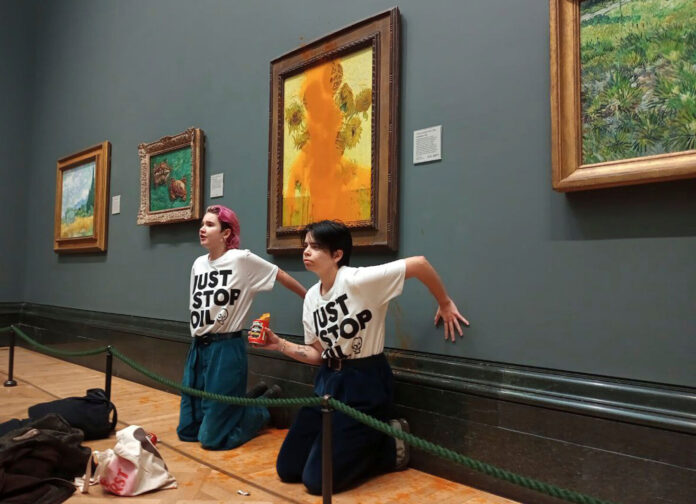 Summary:
LONDON — Climate protesters across Europe have for months been gluing themselves to the frames of famous paintings in a series of attention-grabbing stunts.
In Britain, activists have attached themselves to about half-a-dozen masterpieces including John Constable's "The Hay Wain." In Germany, protesters have stuck themselves to works including Rubens's "Massacre of the Innocents," which hangs in the Alte Pinakothek, in Munich. In Italy, works in the Uffizi, in Florence, and at the Vatican Museums have been targeted.
Now, protesters in London have found a new way to focus attention on their cause: throwing cans of tomato soup at a masterpiece.
At just after 11 a.m. on Friday, two members of Just Stop Oil, a group that seeks to stop oil and gas extraction in Britain, entered room 43 of the National Gallery in London, opened two tins of Heinz cream of tomato soup, and threw them at Vincent van Gogh's "Sunflowers," one of the treasures of the museum's collection. It is one of six surviving images of sunflowers that van Gogh made in 1888 and 1889.
As the gloppy orange liquid dripped down the glazing that was protecting the painting, the pair smeared their hands with glue and stuck themselves to the wall beneath the work. In videos of the incident posted online, gallery visitors can be heard saying "Oh, my gosh!" and calling for security; one of the activists delivers a speech in which they ask visitors whether they "are more concerned about the protection of a painting, or the protection of our planet and people?"
Within minutes, the stunt grabbed attention worldwide, and many social media users expressed concern for the painting's condition. Yet the National Gallery said in an email statement that the work was unharmed aside from "some minor damage to the frame." The activists had been arrested, the statement added.
Mel Carrington, a spokeswoman for Just Stop Oil, said in a telephone interview that the group's intention had been to generate publicity and to create debate around the climate crisis and the actions needed to stop it.
Van Gogh's "Sunflowers" had nothing to do with climate change, she said. It was simply "an iconic painting, by an iconic painter" and an attack on it would generate headlines. But the choice of soup was more symbolic, Carrington said: In Britain, many householders were struggling to pay fuel and food bills because of soaring inflation, and some could not even afford to heat up a can of soup. The government should be helping ordinary people deal with "the cost of living crisis," rather than enabling fossil fuel extraction, she added.
Carrington said the activists had checked in advance that the work was glazed, so the soupy splattering would cause no damage and could simply be wiped away. And Just Stop Oil planned further actions, she added.
Source:
Marshall, Alex. "Climate Protesters Throw Soup Over van Gogh's 'Sunflowers.'" The New York Times, October 14, 2022, sec. Arts. https://www.nytimes.com/2022/10/14/arts/design/soup-van-gogh-sunflowers-climate.html
Personal Analysis:
This example demonstrates how anything may become a victim of social media. Arts are at risk of being harmed in this context since they are unrelated to the issue and serve only as a means for attracting attention. Another article titled "Why Social Media Loves Chaos" by Lore Oxford stated that, based on data, this story went viral, yet there was no change in the conversation about climate change. This is how social media has provided a platform for people to do anything to gain attention, even if it means causing harm to other things or people. This brings unpleasant experiences for many users. Therefore, it needs attention to get improved or protected.