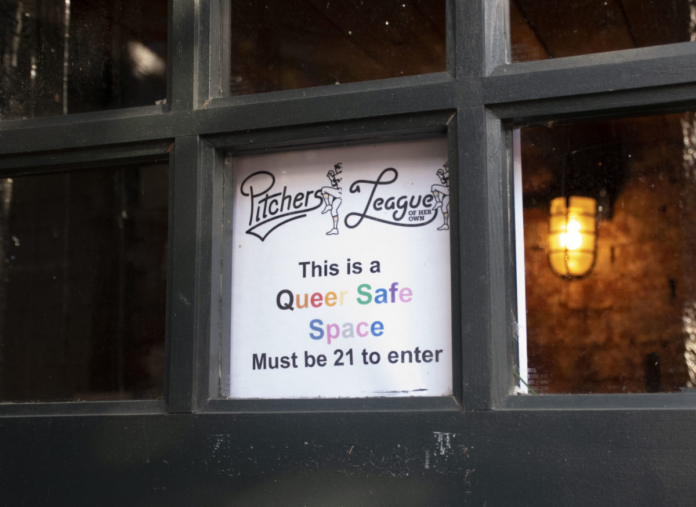 On one night, the Smallmans met a friend at a New Orleans gay bar. They were there for about three minutes before some of the patrons and employees started yelling at them to leave because they were women. The couple and their friend hadn't even had a chance to order a drink.
In the Late 1980s, there were around 200 lesbian bars in America – now there are about 25 that remain.Overall, he found, gay bars declined by 36.6 percent between 2007 and 2019.Mattson's report, too, noted how among the bars most at-risk of closing are spaces that cater to women and people of color. According to the report, listings for bars that served people of color declined by 59.3 percent. Bars for women declined by 51.6 percent.
Later, "as transgender issues became more prominent, and we began to recognize genderqueer and gender nonbinary folks, bars that seemed to be open to all genders became the dominant kind of LGBTQ+ space," Mattson said.
"The wage gap discrimination is a huge part of this," said Ally Spaulding, general manager of A League of Her Own in Washington, D.C. "Obviously, women earn less than men, and on top of that, Black women, Latino women, Asian women earn significantly less. So if you're looking at the capital of white cis gay men versus the capital of white, Black, brown, Asian, Latina, queer women, the disparity is huge. And therefore, it takes twice as much work for us to gain the capital because we are underpaid across the board."
"This place is so special to people, it transcends its edifice. It's not just the building. It's a living, breathing thing for so many people that have come over the years," she said.
Several owners described their lesbian bars as meeting spaces for the community, a "think tank," a safe space, a space that's much more than the four walls of a building.
"As a queer bar owner, you can talk to other bar owners, too. No bank is going to give us a loan for a lesbian or queer bar. It's just not going to happen. And if you do get one, you're friggin' lucky or you've got somebody behind you that's got money to back it. I was told it's a high-risk investment when I originally tried to get a loan. So I worked two jobs and paid cash for everything."
— Jody Bouffard, owner of Blush & Blu in Denver
"When my wife and I decided to open the bar, the first loan officer that we went to — he actually denied us, and his reason for denying us was not our credit, because our credit was perfect. He said [it was] because, in this economy, we should be careful about getting loans so big because we don't make that kind of money. And my wife and I were like, 'Well, you've just seen our financial situation.' He said it's not the kind of money that your male counterparts make, and so it is very risky. So I said to him, 'I will assume the risk myself. It shouldn't be whether I make as much money as the next man does.' So we went to the next bank and got approved."
— Rachel Smallman, co-owner of Herz in Mobile, Alabama
"They're important because for a lot of us, our families have disowned us because of who we are, especially our Black trans community. And we want a space that whether you're Black, white, Latino, Asian, you know, these brick-and-mortar spaces are important to our LGBTQ community. Having that family atmosphere, whether you drink or not, you can come and you can have a meal, you can have a safe space if you want to sing some karaoke or you just want to talk to somebody. There's a lot of work that we do using our platform to raise money [for a range of local causes.] So I think these spaces are important because you don't get to have that feeling where you could be yourself, necessarily, at a predominantly straight venue. Maybe gays are accepted more, but there's nothing like the feeling of your own space where you know 'I'm not going to be judged if I come here.'"
— Jen Maguire, co-owner of My Sister's Room in Atlanta
"The whole revolution, if you want to call it that, started in Stonewall, a bar. Luckily, Cubbyhole does have a diverse group of people that come, and you can see older people talking to the younger people about what it was like and what happened. A lot of times the younger generation doesn't realize just how difficult it was. To lose that touch of history, it would be a very sad thing. Lesbians contributed to gay rights just as much as anybody else, just as much as gay men. I feel like without the bar, we're losing our visibility. During the AIDS crisis, when the men became too sick to fight, we fought for them. We were there marching when they couldn't. And we need our spaces and our mark, we cannot become invisible. And the bar is one way not to.
— Lisa Menichino, owner of Cubbyhole in New York
Analysis
One of the testimonies in this article is from a bar owner who got a bar passed down to her. Usually, business investments like this seem like a good financial opportunity to the new owner, but she chose to keep the bar open for the purpose of community preservation. She had 'rolled the dice' and decided to take the risk. While queer people are bigger spenders, I wonder if their have a bias towards altruism/ philanthropy/ community-preservation. Lesbian bars ARE dying, they need community support, and they need to instill within lesbians that they have a responsibility to support lesbian bars for the sake of their survival. Lesbian bars will be an interesting subject to form a business conjecture on; the conjecture should bring in lesbians, add another resource/ purpose/ community support. And they need to be able to reach younger generations who aren't coming due to a broadened acceptance of queer people in all spaces, the introduction of dating apps, the confusion that genderqueer people can face in these queer spaces.