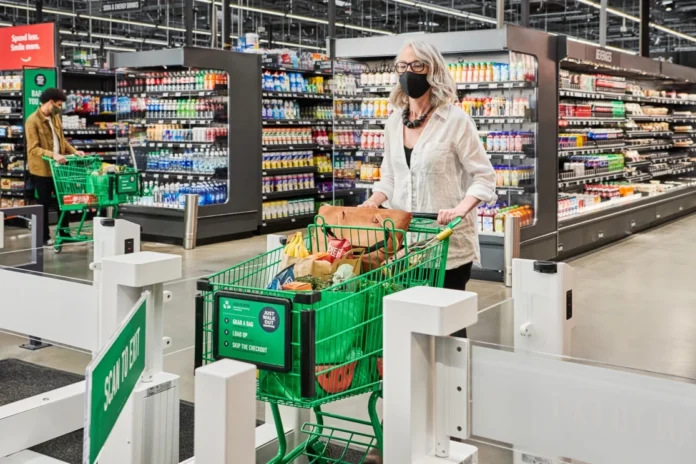 Source: https://www.aboutamazon.com/news/retail/amazon-fresh-grocery-store-meet-just-walk-out-shopping
Overview:
Now customers can save time shopping for groceries by skipping the checkout line with the launch of our new Amazon Fresh grocery store with Just Walk Out shopping.
Just Walk Out technology is made possible by a combination of computer vision, sensor fusion, and deep learning, and adds convenience to customers' grocery shopping experience by giving them the option to come in, pick up what they want, and skip the checkout when they're done. Anyone shopping at the new Amazon Fresh store can take advantage of the technology, which connects to customers' Amazon account or credit card. Customers are prompted at the store's entry gates to choose if they want to use Just Walk Out shopping or the traditional checkout lanes.
Customers who opt for Just Walk Out shopping can enter the store in three ways: They can scan the QR code in their Amazon app, use Amazon One to scan their palm, or insert a credit or debit card linked to their Amazon account. Each option will open the Just Walk Out gates.
Once inside the store, customers can shop like normal. Anything they take off the shelf is automatically added to their virtual cart, and anything they put back on the shelf comes out of their virtual cart. At the end of their trip, customers shopping with the Just Walk Out experience simply scan or insert their entry method again to exit.
Analysis:
This article gives an explanation of a new way of shopping and how it makes an overall better shopping experience. I like this article because it shows how they are using digitalization in the grocery store world to help a variety of consumers. I believe it makes shopping faster, more efficient, and simpler by allowing customers to skip the traditional check out process in grocery stores.