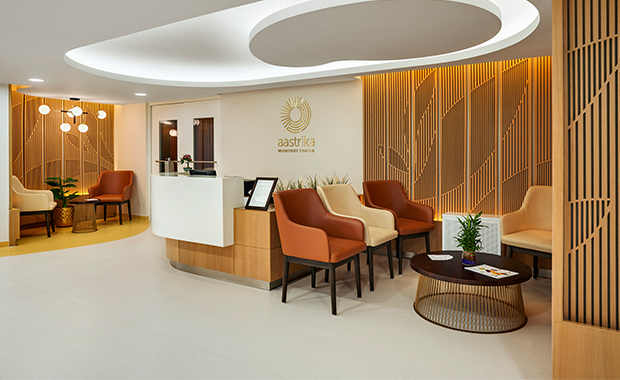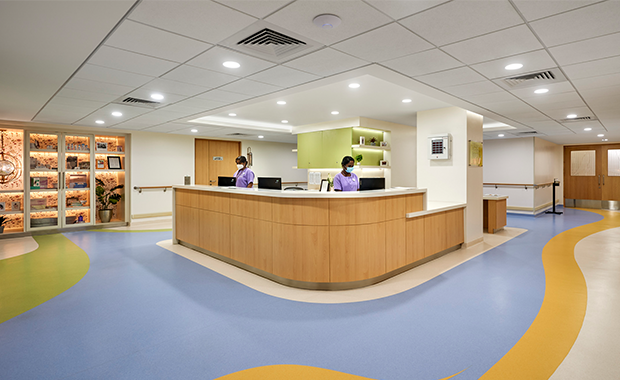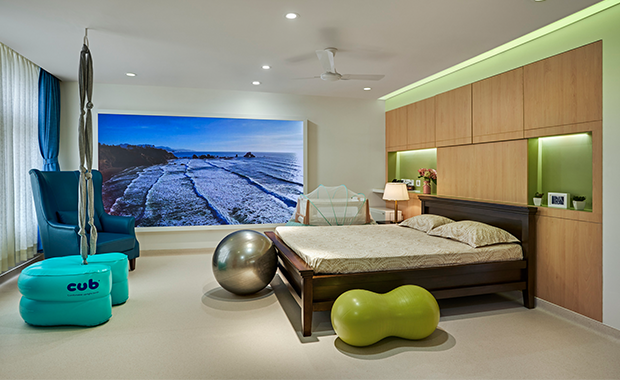 During her pregnancy, Janhavi Nilekani, founder and chairperson of the Aastrika Foundation, a Bangalore, India-based non-governmental organization working to improve maternal care across the country, says she had to travel outside her hometown to find the birthing experience she was seeking.
Although high-quality facilities exist, they typically don't have the space or infrastructure that promote a midwifery-led model of care. Furthermore, the hospitals tend to be more clinical instead of offering mother-centric touches that help reduce stress and support the best birthing outcomes.
Inspired by her experience, Nilekani, a development economist by training, says she decided to create the foundation. In September 2021, the first Aastrika Midwifery Center opened in Bangalore, India.
The Mumbai-based branch of Perkins Eastman delivered the programming, planning, and interior design on the project. The new facility offers both outpatient and inpatient services, with a focus on promoting natural childbirth through a midwifery model of care.
"The goals were to create a place where the design really supported the best health outcome [and] to be a place that felt joyful and welcoming," says Nilekani. "Birth is not a disease. You're expanding or creating your family, and it should be a place that feels positive, welcoming, and joyful."
Supportive design features
The midwifery center comprises two outpatient rooms and a birthing unit comprising two labor and delivery rooms and three antepartum/postpartum rooms with space for expansion.
A colorful corridor loops around a centrally located nurses' station in the birthing unit. It serves as a labor lounge where women can stay active during labor, a strategy that's been shown to lead to better outcomes for mothers, Nilekani says.
Each room features an ensuite bathroom, space for exercise equipment (such as a ceiling-mounted birth rope), and a tub for water births or immersion for pain management.
Calming clinic setting
The room layouts also integrate audio visual "sensory technology" with calming imagery and specialty lighting.
Interior design details add to the center's warm, residential aesthetic, including wood materials and pops of color.
For example, vibrant vinyl floors with blue, yellow, and green highlights decorate the labor lounge corridor. Wood paneling is featured in the nurses' station and light wood cabinetry in the patient rooms conceals midwifery and medical equipment.
 The cheerful interior was intended to raise the energy level of the space to make both mothers and midwives feel a little more energetic.
Analysis
Based on her experience, Janhavi Nilekani, made a high quality facility gears directly for mother-care. It promotes natural childbirth through midwifery model of care and suppose to be a place that is positive, welcoming and joyful. It looks like a very nice hotel room with a large bed and bathtub included, different from a hospital birth-room setting, this place is a lot more home-like and comfortable. Having an environment geared towards mother care is something that is very nice because expecting mothers may be nervous an anxious, more so if it's their first child, and being stuck in a white room, on a hospital bed wouldn't really ease those anxieties.