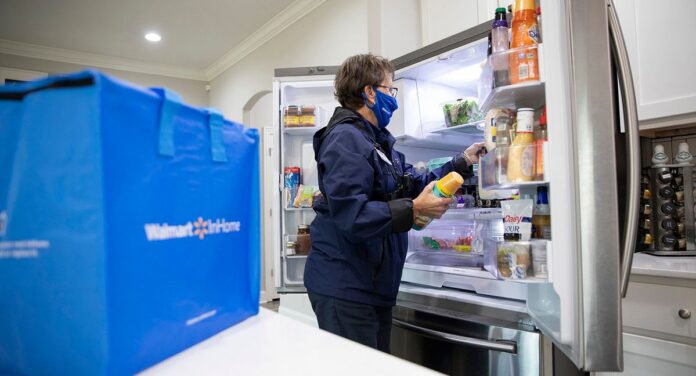 Date: 08/09/2022
Link: https://www.grocerydive.com/news/online-grocery-sales-increased-17-in-july/629179/
Online grocery sales in the U.S. increased 17% in July year over year, to $7.8 billion, as inflation and COVID-19 anxieties continue to drive increases in the channel, according to the latest monthly e-commerce report from Brick Meets Click and Mercatus.
More than 68 million households bought groceries online in July, up 3% over the same month last year, fueled mainly by pickup and delivery.
Mass merchandisers like Walmart seem to be benefiting most in this environment, with active users increasing and more shoppers saying they intend to keep shopping online with those companies. 
Consumers' desire to limit their spending amid ongoing inflation has recently challenged the growth of online grocery, which carries extra fees and, in many cases, markups on product prices.
Anlysis
There is a lot of data and numbers here to unpack but the clearest take from this article would be the rise in sales coming from shopping online. Even as the pandemic subsides, consumers are continuing go the route of curbisde pickup because of it's huge convenience and lack of fees. As inflation contunues to affect people's shopping habits, people still want the benefit of conveneience features while they save money. This benefits companies and will incentivize them to continue to develop their curbside pickup process.
Source
Wells, Jeff. "Online Grocery Sales Increased 17% in July." Grocery Dive, 9 Aug. 2022, https://www.grocerydive.com/news/online-grocery-sales-increased-17-in-july/629179/.