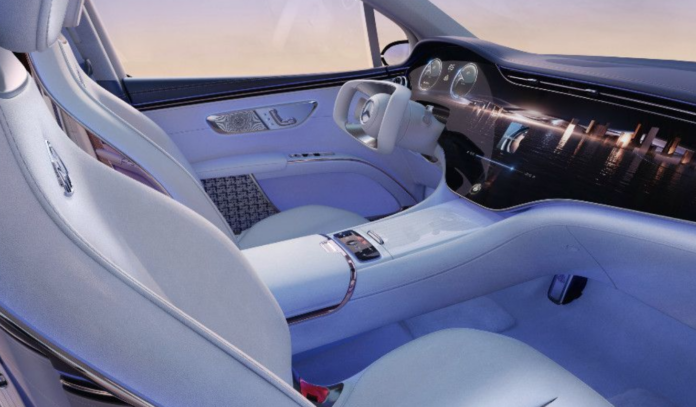 "We are completely redefining the luxury SUV of the future," he said.
The blanked-out front grille with its Maybach pinstripe chrome detailing blends "seamlessly" into the hood and the LED headlights.
A number of chrome elements on the exterior including the deeply dished wheels establish the Maybach look.
The interior is accessed by optional electric doors, which can be set to open automatically as passengers approach. They can be also opened via an app.
The interior was created virtually rather than physically but the design shows a lounge environment with pale leather trim and accents of both rose-gold metal or blue LED strips.
The dashboard is dominated by the so-called Hyperscreen seen on the EQS and EQE sedans that stretches across the front. The 56-inch wide feature stitches together three screens to give the appearance of one single screen and here has been given Maybach specific design and content."
https://europe.autonews.com/munich-auto-show/mercedes-maybach-hints-electric-future-luxury-suv
The sales and use of LED's within the car interiors are rising to the brightness control and low energy consumption, which is crucial for the beginning of electric vehicles. The large touch screen dash brightly illuminates the interior and lets the have full control of the vehicle from a central area. The mix of texture instead of color gives a cohesive and modern feel. The integrated screens in the back of the seat are a choice of many modern car designers as the goal is to have car interiors feel like an extension of a home.