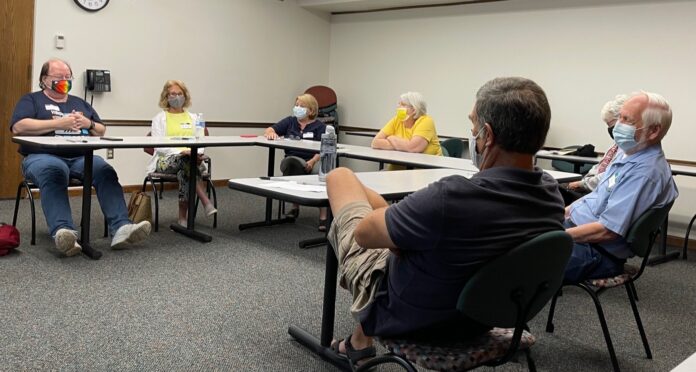 Background & Context
This project broadly fits within the scope of mobility and socialization, specifically of the older adult population in Upper Arlington, Ohio. Upper Arlington is an upper-middle class suburb of Columbus, Ohio. Our project partner, the Upper Arlington Commission on Aging, brought us the sandbox topic of exploring mobility and socialization, specifically interested in transportation, and keeping in mind a community circulator proposed for older adults within the community.
The circulator proposed will be piloted in January and seeks to fill a transportation gap for those in the community looking for additional means of transportation. The circulator is a community bus specifically for older adults that will run strictly within the Upper Arlington community. This will be based on the C-Loop van model that is currently running in Clintonville. The Clintonvile model runs every Tuesday from 10am-4pm and repeats a 90 minute loop with scheduled stops to local stores and businesses as well as bus stops to pick up and drop off residents. Anyone over age 50 can ride, and it is free once you sign up for a free "bus pass." The Upper Arlington Commission on Aging plans to test this circulator model in their own community starting once a week. The circulator will offer more directness than current public transit and will be more cost effective than services like Uber. 
Older adults are a big population to account for. In 2019, 16.5% of the US population were people age 65 and over. In Upper Arlington that percentage is 17.2%. These older adults in Upper Arlington will be our key stakeholders, both those that can drive and those that cannot. In our primary research that I will discuss later, residents who cannot drive expressed frustrations about getting around, as well as residents that can drive also expressed concern for what will happen when they can no longer drive. Another main stakeholder is the Upper Arlington Commission on Aging, as our project may expand upon opportunities around their proposed transportation solutions. 
Secondary Research
Striving for a holistic view of the issues of mobility and socialization, I conducted secondary research surrounding mobility of older adults. Many older adults face a natural decline in mobility due to aging, or by injury or illness. As a result, overall well-being may go down based on the research that mobility is a key factor in determining if the psychological needs of autonomy, relatedness, and competence are met.
I discovered a breadth of areas that negatively impact older adult mobility including health threats, finances, ageism, and more. On the contrary there are solutions proven to increase mobility like new technologies, robotic aides, exercise, music, and certain transportation services.
I looked into different art-based innovations for older adults such as a performing arts Zoom class for seniors that launched during the pandemic, and a library makeover that created an atmosphere for socialization within the community. I also learned about different service models including a tech start-up that partners with hospitals to provide insurance covered transportation to medical appointments.
This research helped me begin to understand potential needs of older adults such as rides to doctor appointments and a community space for socialization, as well as understand how different issues such as health, exercise, the arts, and socializing may be interconnected.
Primary Research
Survey
In writing and sending out a 9 question survey, my group was able to get some initial responses from people within the 65+ age demographic. Those surveyed were outside of Upper Arlington, but still within the midwest. We found that 100% of our participants drove themselves as their most frequent way of getting around. There was a range in how often participants left their residences, but every person said they left at least once every few days. The majority place participants said they go is to the grocery store. Every person surveyed has at least one tech device to access the internet, and 88% participants felt at least "somewhat confident" in learning new technologies.
In conjunction with the survey we conducted, our project partners sent us survey data from a large sampling of Upper Arlington residents 65+. Some main insights were that most participants still drove themselves as a primary way of getting around, and the majority said they would be driven by friends or family if their first mode of transportation was no longer an option. A majority of residents had internet access (but in contrast with our survey, some did not). They also gathered findings on people's current view of their health, their socialization, housing information, and information from caregivers. This data will help us know life circumstances of who we are designing for, as well as gaps of people that may not be accounted for (such as those without internet access).
Co-Design Sessions
Our project partner helped us recruit a small group of 7 participants for a two part session described below (only 5 were able to make it to session 2). Session 1, held at a local library, consisted of both a group interview and group activity we called a brainstorm map. Session 2, conducted at another library, consisted of a "bad design ideas" activity, and a user journey map activity that broke the participants into smaller groups. Because participants in the sessions already had to have certain mobility privileges to attend the sessions, we used their voices to speak about the mobility circumstances of both themselves, and others they know in their community.
Interview
We conducted a group interview and asked 5 set of questions about participants current transportation methods, if they have concerns about their current transportation methods, their openness to public transportation, intergenerational connections, and if mobility impacts activities they enjoy. The responses proved transportation as a primary concern, both of non-driving and driving participants.
In response to transportation methods, one participant no longer drove due to traumatic brain injury, and the rest of the participants said they still drove themselves. One mentioned they wish they didn't have to drive as much, and another said they technically shouldn't be driving because of their medication. Other modes they used were walking, biking, and public transit (COTA bus). There were many negative comments about the current bus system, COTA, about how long it takes, how many times you have to change routes, and how unpredictable it can be because you don't know when it will show up to the bus stop. They mentioned enjoying public transportation in other countries, but that they don't like it in Columbus. They mentioned there are less bus stops than there used to be in this area, and that an assumption that "everyone drives" which can be very frustrating.
Other insights gained from the interview were reliance on neighbors and family members for rides and assistance, and that while generally our group was content with their current socialization between family, friends and neighbors, they value intergenerational connections and are open to socialization opportunities. They also mentioned wanting not just to stay in Upper Arlington, but being able to go to other communities. 
Brainstorm Mapping Activity
In this activity, we had the group use post-it notes to map out different ideas and problems to transportation. We had them put primary needs in the middle, to less essential wants and desires on the outer rings of the target. We asked them to keep in mind different stakeholders of those who cannot drive to those that can drive but may still benefit from transit services.
The group gave us a wide range of thoughts and ideas including essential places to go like the grocery and church, to wanting to attend fun events like the OSU football game. They mentioned on-call transportation services and a need for a place with localized community information. They mentioned caring about speed, ease of use, direct drop offs, and possible plan ahead options. They mentioned wanting vetted drivers as Uber drivers are unfamiliar and could be from anywhere. Other participant comments from this mapping session include "Current bus is inconsistent" (COTA),  "It's not just about getting there it's about getting back" (parking and accessibility), and that you "Need someone to wait with you for medical procedures" (so skipping appointments is common).
Bad Design Ideas Activity
In our second co-design session, we used pictures and explained bad design ideas to get their critiques on what they didn't like about the designs. The goal was to get further insight about features they may want to see in a design.
Insight from this session included needing to consider weather, weight limits, safety, timeliness, storage, scale, bumpy terrain, and materiality all in relation to transportation. One participant mentioned that if you are going somewhere, it's usually for a purpose not just a joyride.
User Journey Mapping Activity
For this last activity, we presented a list of potential user personas, and had them select 3 to break into groups and make user journey maps for these older adult personas. We gave them a selection of materials, photos, shapes, etc. as well as an example of what a user journey map was to be able to assist them in documenting their ideas. After creating the maps, we video recorded them walking us through the explanation of the maps.
The first user journey map described an individual using Uber to get groceries. The journey pain points included friends unavailable to give rides, the expense of an Uber, needing to remember the car and license plate for Uber, when to call for a good pickup time, and no one to help carry groceries in.
Insights from the second map including the individual wanting to go to many places such as the grocery, getting ice cream, the library, and sporting events. They described their persona as happy and discussed that socialization was very important.
Insights from the third map, were needing to reserve a ride weeks in advance to go to a community event, and needing to allocate multiple hours during the transportation process for loading and transporting a wheelchair bound individual onto a shuttle.
Analysis
For framing the research findings, I've created a list of "symptoms" of the current mobility and transportation problems of the older adults in Upper Arlington. These are based on themes of pain points mentioned during research. I have broken these down into sections on using public transportation, and then using direct transportation services such as Uber, and then feelings of users in regard to both public and direct transportation services.
For current public transportation:
•Indirectness
•Inconsistent communication of timing and routes
•Unclear where to find information
•Long commutes
•Lack of assistance pre and post transportation
For direct transportation services:
•Expense
•Lack of assistance pre and post transportation
Feelings:
•Impersonalization
•Unfamiliarity and stress with drivers and systems
Design Project 
Moving forward with this research into the design space, I have identified a specific problem space using the symptoms above, and have defined certain features and attributes this project will entail based upon the perceived needs and wants revealed in research. The specific problem within this research I will tackle is:
Expanding upon opportunities of the services surrounding the circulator by looking into the process of scheduling and planning a ride. The goal will be a service design that allows for spontaneity in rides, while maintaining efficiency, ease of use, and opportunity for socialization.
My top objectives for this project will be:
Define details of the planning stage of using the circulator
Create scheduling and planning system that allows for both consistency and flexibility
I will use divergent scenarios, user journey mapping, and prototyping amongst other design strategies to arrive at a design solution.
The main strategy will be service design.
Main features of the design will include:
Assist riders in planning their rides on the circulator,
Assists riders in scheduling rides on the circulator,
provide Real time tracking of bus location,
Provides community news and information
Main attributes of the design will include:
Easy to learn,  and ease of use and
Supporting rider spontaneity, being customizable
Sources:
ETC Institute. (2021). (rep.). Upper Arlington Commission on Aging Community Survey: Findings Report (2021).
Village, H. (n.d.). Loop circulator bus – village in the Ville. C. Retrieved October 1, 2021, from https://villageintheville.helpfulvillage.com/editable_pages/10017-c-loop?mobile=0.
Fig. 1 Village, H. (n.d.). Loop circulator bus – village in the Ville [Photograph].Retrieved October 1, 2021, from https://villageintheville.helpfulvillage.com/editable_pages/10017-c-loop?mobile=0.