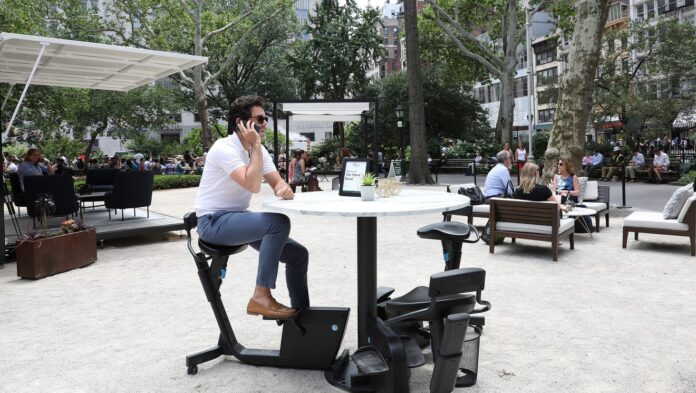 In a 6-acre park in New York this month, outdoor retailer L.L. Bean set up a temporary office to demonstrate what cubicle dwellers can experience when they can venture outside to smell the roses as they tap their keyboards.
The setup, built in partnership with workspace provider Industrious, included all the elements of an office conference room – swiveling chairs, a desk and, most important, Wi-Fi. But the difference was it resembled a series of sturdy canopies, with a roof and open sides that provided fresh air and outdoor sounds.
L.L. Bean joins several of the nation's best-known technology companies to encourage workspaces with a biophilic design, which seeks to bring the outside indoors and the inside outdoors. These "green" spaces aren't just for sustainability; they actually leave humans feeling less stressed and more focused, experts say.
Many employees want to have outdoor elements in a working environment, according to L.L. Bean's 2018 Work and the Outdoors Survey. It reported that 86 percent of indoor workers said they would like to spend more time outside during the workday, but 65 percent said work serves as the largest obstacle to doing so.
"Incorporating nature into the indoors could improve people's attention in unconscious ways," Berman said.
Analysis
Humans have only started working indoors full time over the last 300 years or so. Being outside is in our nature. LLBean, an outdoor company that makes clothing, hiking gear, and much much more, has taken the initiative to move some of their offices outside. We have a hard time changing our perspective and sometimes need social influencers to start a "trend" so that the rest of us can jump on. The space that LLBean created with the help of Industrious included everything that an office has, spinning chairs, desks, Wi-Fi, as well as the fresh air outside. There are also roofs that give the feeling of a closed private space, but there are no walls, letting the breeze and outdoor noises flow through. They went through the process of asking employees if they would want to move their office outdoors, and while many said yes, many employers said that they would rather not. This article is important because it give a really good example of what an outdoor workspace looks like according to a specific brand. LLBean is known for what they sell in the store and this space is very similar to what they produce. Biophilic design is increasingly gaining in popularity and bringing the office outdoors is aiding that.
https://www.usatoday.com/story/money/2018/06/28/l-l-bean-promotes-office-spaces-working-outdoors/732495002/