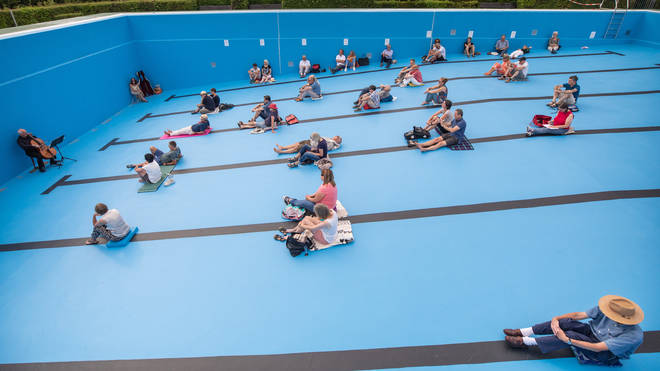 Concert halls are showing signs of reopening – but things won't be "back to normal" for a long time to come. Here's how various orchestras and organisations are adapting to a post-pandemic world.
After shutting down in large swathes, the classical music world is tentatively preparing to come offline and back into concert halls, but with the social distancing measures that are our 'new normal' kept very much in place.
From members of audiences in masks, to musicians staying a certain distance apart, there are already concert hall contingencies being used to ensure concerts can go ahead safely IRL.
Socially-distant performers
Victorian Opera in Australia has rejigged its rehearsal space in Melbourne's Horticultural Hall (Horti Hall, to locals) for opera performed in front of the camera for virtual school workshops, by singers observing social distancing.
Recently, three singers performed the 'trio' from Massenet's Cinderella featuring Cinderella and her two stepsisters, moving just enough to generate some action for the story – but never enough to come close to each other and endanger anyone's health. "It almost feels like a recital, but you're trying to keep it interesting at the same time," one of the singers, soprano Rebecca Rashleigh, recently told The Age. "It's a fine balance. You have to think more creatively: how can you interact without physically touching?"
Drive-in opera
Drive-ins are starting to pop up all over the world, as popular alternatives to cramped concert halls and packed public spaces.
English National Opera is among the first art institutions to join the growing trend, with drive-in showings of Puccini's La bohéme and Mozart's The Magic Flute due to take place at London's Alexandra Palace in September.
Self-playing pianos
For piano-accompanied recitals, a post-lockdown solution could be found in self-playing pianos. Soprano Rachel Gordon recently posted her performance of Samuel Barber's 'Sure on This Shining Night' with a pre-programmed player piano – with playing by Victoria Royce – and the resulting video is as haunting and isolated as any concert without an audience we've seen so far (watch above).
---
ANALYSIS
This article provides a very brief overview of different initiatives theaters around the world are taking to reopen concert going for classical concerts. Although music in a theater is different than what you may see in a concert hall, there are interesting points that this article brings up for rethinking how to facilitate a concert during the pandemic and onward.
Typically we focus on the audience when observing social distance measures, but as the article points out, some theaters are also opting to put distance between performers. In the instance of performance art, or dancing for example, it is interesting to conceptualize what these acts will look like with the 6ft restriction. How will emotion or human connection be personified within these parameters?
Additionally, the article makes a point to bring up pre-programmed sets with the self-playing piano scenario. What could concerts look like when you remove the performers altogether? Are there opportunities to generate the same excitement of traditional concerts while allowing the performer to play from a different location? What may that space look like?