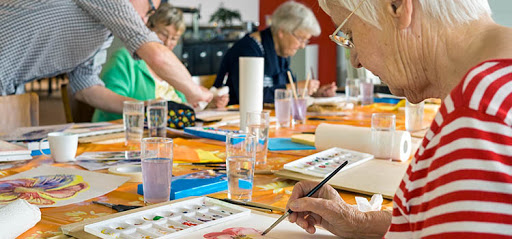 By Barbara Bagan, PhD, ATR-BC
Creative art pursuits provide older adults with multiple benefits, not the least of which is enhanced cognitive function.
Throughout history, artists have known that art provides benefits for both the creator and viewer. Current studies in the fields of art therapy, music therapy, and other creative modalities confirm that art can affect individuals in positive ways by inducing both psychological and physiological healing. We know that, in general, exercising our creative selves enhances quality of life and nurtures overall well-being. We all are creative—not just a select few.
Less well known is the effectiveness of incorporating expressive arts into programs for older adults and patients who are diagnosed with Alzheimer's disease, Parkinson's disease, and other chronic degenerative diseases. Recent clinical research validates what some professionals and others who work with older adults have known for years—that making art is an essential, vital component of activities that offer a wide range of health benefits. Several studies show that art can reduce the depression and anxiety that are often symptomatic of chronic diseases. Other research demonstrates that the imagination and creativity of older adults can flourish in later life, helping them to realize unique, unlived potentials, even when suffering from Alzheimer's or Parkinson's disease.
Erik Erickson's eighth and last stage of psychological development culminates in an integration of the individual's past, present, and future to confront the conflict between integrity and despair. The result can be either despair or wisdom. When older adults pursue activities that are based in meaning, purpose, and honesty, they can attain the wisdom and integrity about which Erickson writes rather than experiencing longing and despair. Therapeutic art experiences can supply meaning and purpose to the lives of older adults in supportive, nonthreatening ways.
Neurological research shows that making art can improve cognitive functions by producing both new neural pathways and thicker, stronger dendrites. Thus, art enhances cognitive reserve, helping the brain actively compensate for pathology by using more efficient brain networks or alternative brain strategies. Making art or even viewing art causes the brain to continue to reshape, adapt, and restructure, thus expanding the potential to increase brain reserve capacity.
---
Even though this article is something that most people would intuitively assume, I still think this is a needed addition to the arts section because of how clear the benefits are. During a pandemic, certainly there need to be new considerations for how an art class would be run at a nursing community, but I think that art classes would be a great opportunity for some of the more isolated individuals to socialize and practice a new skill.
Source: https://www.todaysgeriatricmedicine.com/news/ex_082809_03.shtml