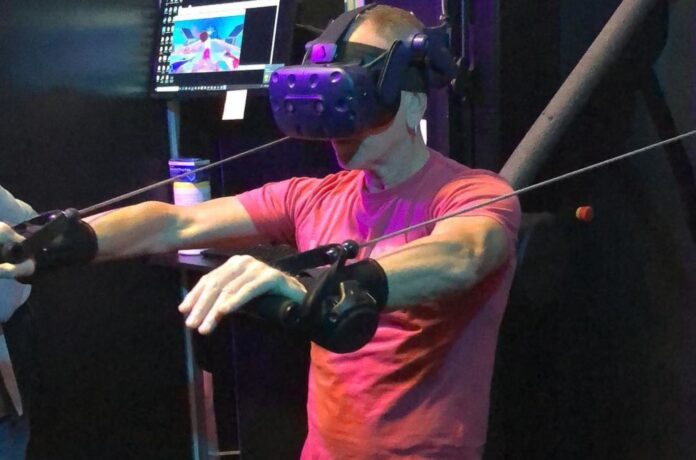 By Lilla Laczo
Give me anything that screams 'the future of fitness' more than having a VR personal training session in your local VR gym. While not too long ago VR sounded more like the after work fun of boojee Silicon Valley software guys, it's slowly making a move towards a more general fitness audience.
With the roll out of machines like the VirZOOM – a blend of stationary bikes and VR games – and the Icaros flying machine – core & upper body focused VR – to selected gyms, you should expect your workouts to see some more action in the near future.
But what's going to have an even more interesting effect on our fitness routine is the introduction of entire VR gyms.
Black Box VR, which brings the 'world's first virtual reality gym' to life, is expected to open their first studio this year in San Francisco, CA. With their unique resistance machines and personalized fitness headsets, they promise to deliver the most disruptive full-body workout experience.
Now the question is, how will this influence the fitness industry in the long run?
PROS OF VR FITNESS
The most obvious impact of VR fitness is adding something back to your workouts that fitness trackers are accused of taking away. Pretty sure you could've guessed it by yourself, but this something is fun. Because training your core while flying through space on your Icaros will be a bit more exciting than a set of lame crunches.
This idea of having real fun, not the 'Oh my God, I had so much fun at SoulCycle yesterday – because I'm pretty sure you didn't – has some real game-changing opportunities.
Firstly, it has the potential to bring a whole new crowed into fitness. Meaning that people who have never worked out a day in their lives because they lack motivation, now might feel encouraged to take the first step.
Secondly, VR fitness also has the power to keep those who're already physically active motivated in the longer term. Because let's be honest, doing the same cardio session every morning is not too engaging. Whereas working out in a virtual world while fighting a bunch of aliens to save the planet will probably keep you away from an easy burnout.
These effects at the individual level are expected to have positive benefits for the industry as a whole as well. Since the involvement of a new audience means more clients. And the increased engagement of old members means higher retention rates. At least for those gyms who will put VR on their list of offerings.
CONS OF VR FITNESS
Next to all the positive changes, there are a few controversial questions that pop to my mind when thinking about VR fitness. There are some basic critiques, like the awkwardness of working out in a headset. Or the immediate motion sickness that's likely to be caused by VR. But there're also some more significant and long-term points to consider.
First, this motion sickness may be more serious than we think. According to scientists at Stanford University's Virtual Human Interaction Lab, VR negatively affects how your brain and eyes normally correlate, which might have some long-term effects. However, what these effects exactly are is currently unknown.
But what's not unknown is that suggested max times spent in VR already exist for a reason. Now when your brain is being tricked and you're also exposed to intense physical activity at the same time, how does that affect the whole equation?
And another thing to question is the actual efficiency of these VR workouts. Focusing on purely your physical performance is already hard enough. But when you'll need to divide your attention between VR and the actual reality, will your performance not drop as a consequence?
–
Unlike AR fitness, VR is a more sensational experience. The article provides an analysis of the pros and cons of using VR for exercising. One downside that was not mentioned in the article is that the VR headset as of now is not suitable for intense workouts as users jump and sweat in it. This might post the question of whether the design of VR goggles is going to change.
I found out there is a VR health institute which is an independent research and rating organization created to study the health impact of virtual and augmented reality. They claim that VR has become a powerful tool for combating adult and childhood obesity.