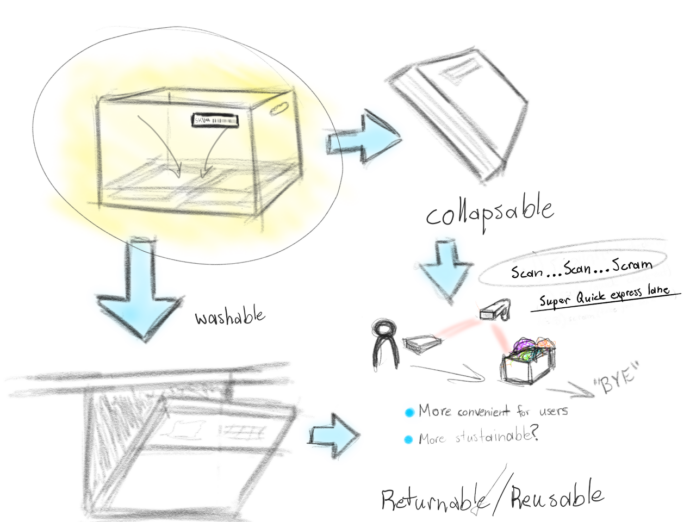 When volunteering at the IMPREM food bank last week, I saw first hand the impact of the coronavirus on many families in the Franklin County District. I also got to experience the quick service of an express line. If there are enough volunteers where everybody is responsible for a single task, then households can be served within a minute of interaction.
My job was to put pre-filled cardboard boxes of food into people's trunk once they successfully checked in. During my shift, I found that a lot of my time was spent waiting for households to check-in. Other food banks are quicker at this because they use ipads and have multiple people working on it, but this is still one of the most time-consuming taasks.
As a solution to this, after people check-in for the first time, wee can offer them re-usable crates to put food in and take with them. When they return, all we would need to do is scan the old, empty crate to check them in, and then scan the new, filled crate to check them out. This process would be much quicker.
Lots of food banks use paper bags to distribute their food. Others use the cardboard boxes that come with the shipments from food banks and other grocery stores. Switching to a re-usable container should reduce this waste, especially if back-end shipments resort to more sustainable practices as well.
Current problems might arise if households cannot reliably hold onto their reusable container for a month. It is likely that people will re-use these containers for a variety of other uses, so broken baskets will likely be another issue.
Reusable containers cannot currently be put in place because of COVID-19 concerns, but this solution offers potential for post-pandemic food pantries.