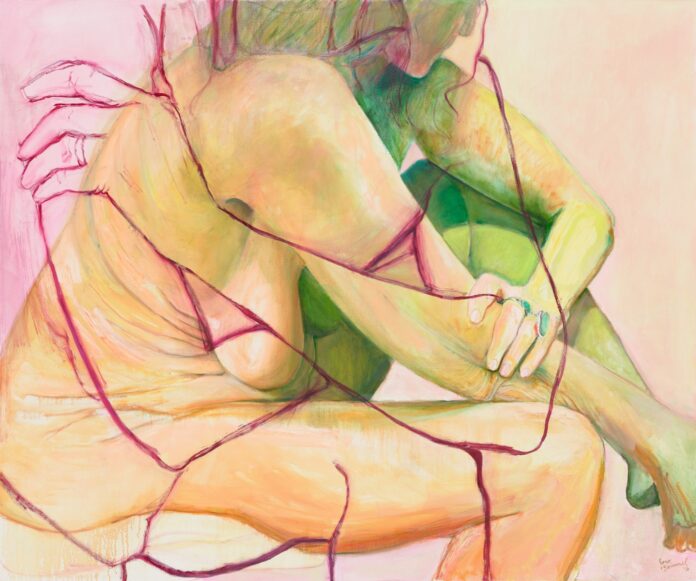 Artwork by Joan Semmel
In recent series like Transparencies (2014–present), Joan Semmel continues to meditate on the aging female physique. Recalling Semmel's 1990s Overlays series, many of these works feature silhouettes of her body superimposed over realistic renderings of her form. Interacting with one another, these dual images create what the artist describes as "dialogues … [which] entice the viewer to engage." At the same time, through their layered compositions that invite narratives around movement and the passage of time, these paintings advance Semmel's decades-long engagement with chronicling her aging body.
Other recent self-portraits further develop Semmel's project of female autonomy through her portrayal of the female body in contexts that question cultural and societal norms of female representation. Approaching her own form as a site of self-expression, she challenges the objectification and fetishization of women's bodies by redefining the female nude through radical imagery that celebrates the aging process—refuting centuries of art historical idealization. "We all have some difficulty in confronting our aging physical selves," Semmel argues, "so when you are painting yourself in that position, it really means that you have to say, 'I'm doing this and I'm not going to make it pretty. I'm not going to hide it, disguise it, no face-lifts. It's going to be really the way I see it.' This is not a disease that's happening. It's the natural evolution of a person."
---
Joan's artwork touches on the Western culture's obsession with youth. This research brings a uniquely feminine perspective on aging, which I think needs more unpacking, due to the added pressures on women as being child-bearing and objects of admiring in their youth. I particularly find this artwork relevant because of the honesty that she presents her portraits with. As she states, she didn't try to sugarcoat physical aging in any way. This is important because of the stigma that surrounds aging bodies, especially women's.
Are there ways to give elderly women more confidence in their beauty even when society may tell them the opposite?
Source: https://www.alexandergray.com/series-projects/joan-semmel5?view=slider#2